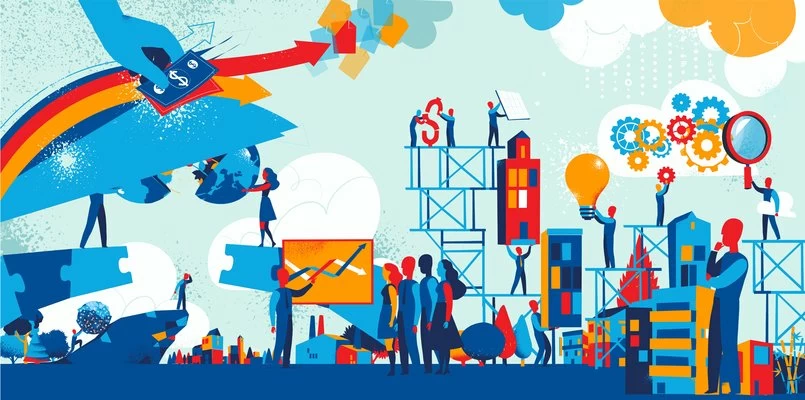 This post is by Phil Phelan, Chief Strategy & Innovation Officer of Publicis Sapient, and a member of the Publicis Groupe Australia Leadership Team.
Marketplaces and ecosystems are real world concepts that have been successfully adopted by major technology firms to permanently reinvent the way we shop, in the process creating the greatest shift in value the world has seen since the industrial revolution. And that is just the tip of the iceberg, compared to how they can be used to solve many more of the problems we all face.
What's next for marketplaces and ecosystems? A return to the real world, the world of humans, objects, industry and wickeder problems than just how we shop. We see three important missions arising.
Making services and regulated markets more user friendly
The venture capital markets that fuelled the rise of consumer and product marketplace firms are now looking for their next wave of growth. This will drive money into chasing growth in services marketplaces and even into entering regulated markets, with many new models appearing in particular across human services like education, trades, health, aged care, clerical and sales work.
These markets are highly fragmented, inefficient and make it difficult for people to discover what they need to be assured of quality. We expect to see a mixture of start-ups and bigger service organisations inserting themselves into that value chain and consolidation of many fragmented operators and introduction of standards.
What's interesting for incumbent services firms is this phase of market development looks more like a managed marketplace where the marketplace plays a greater role in managing the quality of the experience itself, not just the transaction. This can mean marketplaces moving into owning physical assets or employing staff to deliver services which have a different economic model, but it can also mean the owners of existing assets and staff (usually the day to day businesses we all work with) deploying marketplace models and methods to grow by moving into new areas.
That's exciting because now we're talking about the promise of digital transformation being realised for a wider set of organisations, not just exotic Silicon Valley start-ups that employ 10 people. This will play out in markets that service the home such as electricity, gas, water, telecommunications and insurance, as well as in regulated services such as legal, health and education where marketplace models can solve problems of supply, quality and discoverability.
The key challenge for start-ups to solve is their 'ground game'. Marketplaces for experiences that need to be managed better are in the main for services and services start-ups have struggled to achieve the same traction as product marketplaces.
Services are infinitely more complex, diverse, subjective, fragmented and delivered in the real world. 'Ground game' is one thing many established firms can do well. So it's a race to see who can build a connected ground game and digital game best.
A clear example of a mission looking for an effectively designed marketplace model is the NDIS. It's been a problematic and underwhelming roll-out for many reasons, but it is one example where a marketplace model would really help consumers, suppliers and prospective workers navigate the complexity, get matched appropriately, develop plans, choose trusted partners, balance supply and demand in specific niches and geographies and use technology to minimise the enormous transaction costs for the micro-operators that make up the bulk of suppliers.
When NDIS start's to fulfil it's promise to Australians there will no doubt be an effective marketplace model at its heart.
Drive incumbent retailers into on-demand
Marketplaces continue to reshape how firms distribute their products, radically altering the retail and logistics landscape in many countries. They are business critical to understand and to master.
Incumbent firms wants to thrive, but first they must survive. These survival instincts will force them to co-opt the methods of their disrupters. We expect to see larger retailers and transportation firms seeking to build out business models that use their range and brand trust in combination with the convenience of on-demand marketplaces.
This can mean marketplaces moving into owning physical assets or employing staff to deliver services as Amazon have done, or as the food delivery services have started to attempt with dark kitchens. It can also mean the reverse, where the owners of existing assets and staff (usually the day to day businesses we all work with) deploy marketplace models and methods to grow by moving into new areas.
The simplest way to think of this is through an equation. In retail the value equation has long been product and price and the best have mastered this foundation. But increasingly the consumer having their expectations set elsewhere now adds convenience into their value equation. So product + price + convenience = value.
If you're a major retail firm, solving this equation is what you and your investors desperately need to get real traction on, and we've already seen interesting acquisitions locally.
Create an open future for energy
The third mission is a dynamic tension between privacy for individuals and transparency for companies, playing out across legislation, stock markets, citizen activism, technology and even elections. It is the desire of legislators and citizens for a more open society, one with greater transparency and competition for corporations and greater privacy and protections for consumers. GDPR, Open Banking are the tip of the spear for what's to come.
In Australia we see financial services, telecommunications and energy as being most impacted in the next few years.
The first wave is what we would call OpenFutures, essentially the legislation referred to as OpenBanking, which will also be rolled out in the Energy and Telecommunications sector. It will be the trigger for a surge in tech driven ecosystem development around the data streams of financial and energy services.
Banks will have to open up their customers' data to third parties – so consumers and businesses will be able to share their data with whomever they choose, under the government's open banking regime. The first stage will publish generic product information via API's, allowing it to be read by a computer so products can be easily compared. Real customer data will follow on.
With this kind of open access to data, understanding what unifies and appeals to us as humans offers opportunities to create richer, innovative new services that customers want and need. Governments see 'Open Data' policies as a means to increase competition, give consumers more choice, lower prices and create better services.
An ecosystem for new and smaller players is being opened up first around banks, then energy firms and customer data is its currency. Incumbents can defend and pursue a strategy of compliance only, or they can use this ecosystem to enrol others in their growth strategies.
One possible future sits at the intersection of energy and finance. Across the next few years many Australian households will invest in 'micro-grids' essentially using solar, batteries, smart meters and IoT to turn their homes into renewable power plants that interact with the energy grid.
That process is capital intensive, data rich and makes a serious impact on the value of most people's biggest financial asset. Micro-financing for micro-grids is a marketplace that banks, energy services firms or start-ups could all play and win in, and it's the type of open future we all need.
Conclusion
Disruptors in retail, in fintech, in greentech, in edtech, in proptech will continue coming, and they will continue to use marketplace and ecosystem models to meet more needs, to build diverse growth strategies, and ultimately to improve people's lives by making things easier by helping people discover answers, by improving the availability and quality of what customers receive, and to reduce the inefficiencies in many markets.
These models can and will need to be adopted by marketers of banks, insurers, universities, utilities, governments, automotive firms and retailers, if they want to keep pace.
These are all examples of missions that would benefit from marketplace models, where different public and private sector organisations can collaborate to build the technological and human platforms we need next.
TrinityP3 has developed a suite of products aimed at increasing your marketing performance to achieve improved business outcomes. Find out more here
Want more articles like this? Subscribe to our newsletter: