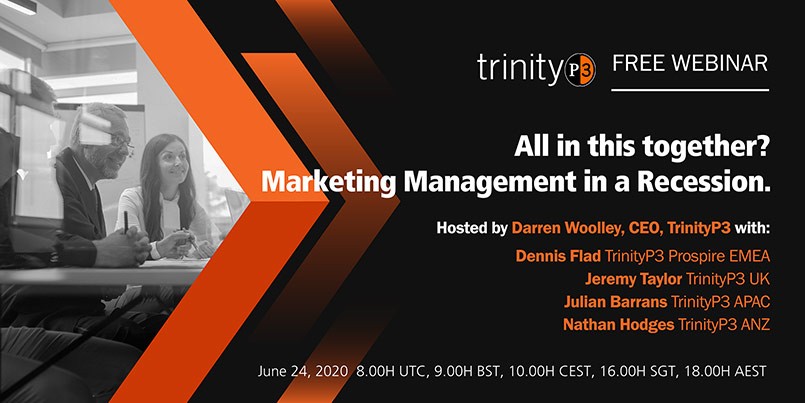 Topic: All in this together? Marketing Management in a Recession.
Date: Wednesday June 24
Time: 08.00 – 09.00H UTC
Presenters: Hosted by Darren Woolley, Global CEO, TrinityP3 with
Dennis Flad, TrinityP3 Prospire EMEA
Jeremy Taylor, TrinityP3 UK
Julian Barrans, TrinityP3 APAC
Nathan Hodges, TrinityP3 ANZ
Description:With a fragile world economy falling into recession under the weight of a global pandemic, marketers are facing the challenge of needing to drive brand and business growth with fewer resources. In the past it was possible to simply squeeze the supply-chain, but now marketers and procurement teams need to be smarter and more strategic in how they address this financial challenge.
With more than 100 years of collective wisdom and experience in managing marketing, the TrinityP3 Global Team share insights and tips to make the marketing budget go sustainably further. From reducing complexity and waste in the supply chain to moving the focus from resource cost to productivity and more.
During the webinar we discuss:
What is the current state of the COVID-19 economy in each market?
What is the general business and consumer sentiment there?
What is the impact on marketing and advertising?
What impact this will have on advertiser/agency relationships?
What do you see are the opportunities for marketers and their agencies to optimize the coming six to twelve months?
Video Recording:
Relevant Blog Posts:
Roster Alignment
How to optimise your agency roster and increase your budget value
The biggest challenges you will face when rationalising your agency roster
Automotive agency roster alignment – Case study
In-Housing
Why in-house advertising services work… and why they don't
Taking your marketing in-house? It is time to improve productivity
Solving complex in-house agency issues – Three case studies
Output Based Value Pricing
Retained AOR or project fees? Which one is best?
How Value Based Compensation can support Zero Based Budgeting
Five ways to use the Scope Metric Model to more effectively manage agency fees
Implementing an output-based cost marketing model – Case study
Performance Based Fees
How to incentivise collaborative agency behaviour with performance based remuneration
Why paying your agency for being nice to you is flawed
How TrinityP3 helps measure the performance of marketing – Three case studies