PASA Connect – Round Table 2
The new face of Marketing Procurement – A discussion for Marketing Procurement Professionals on how to shift the focus from cost to value and become part of the marketing team to drive a new era of Marketing effectiveness. Share great stories, successes and lessons to enable us all to learn more about how to support Marketing Procurement professionals to bring their game to next level.
Date / Time
June 4th, 2020 / 12:00pm
LOCATION:
Virtual
Read more details here.
Public Relations for Agencies – Get a professional or DIY?
PR is an important part of any agency new business strategy. Some do it very well, but most do it badly, if at all. But what is the best approach for any agency or professional services company wanting to attract clients, especially in these challenging times.
To discuss these issues and challenges you have two experts in public relations, who both believe agencies should be using PR to build their profile and build their business. But each takes a very different approach. One works with the agency to develop and execute their PR strategy. The other works with the agency to teach them and coach the agency on how to handle their own.
Hosted by Darren Woolley, Global CEO, TrinityP3 with
Katy Denis, CEO, Extollo
Jules Brooke, Head Honcho, Handle Your Own PR
Join us to hear from both perspectives and make up your own mind as to which one is right, and which one would best work for you.
Numbers limited.
Date & Time
June 17, 2020. 10.30H SGT 12.30H AEST 14.30H NZST
Make sure you reserve your place in this free webinar here.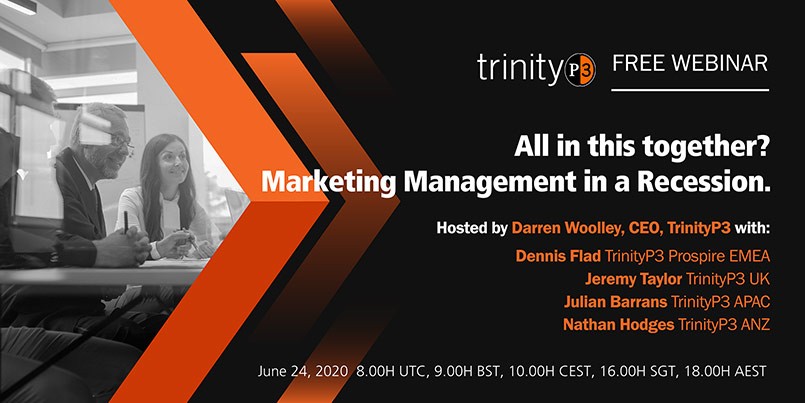 All in this together? Marketing Management in a Recession.
With a fragile world economy falling into recession under the weight of a global pandemic, marketers are facing the challenge of needing to drive brand and business growth with fewer resources. In the past it was possible to simply squeeze the supply-chain, but now marketers and procurement teams need to be smarter and more strategic in how they address this financial challenge.
With more than 100 years of collective wisdom and experience in managing marketing, the TrinityP3 Global Team will share the insights and tips to make the marketing budget go sustainably further. From reducing complexity and waste in the supply chain to moving the focus from resource cost to productivity and more.
Hosted by Darren Woolley, Global CEO, TrinityP3 with
Dennis Flad, TrinityP3 Prospire EMEA
Jeremy Taylor, TrinityP3 UK
Julian Barrans, TrinityP3 APAC
Nathan Hodges, TrinityP3 ANZ
This is an opportunity for marketers and procurement professionals to access years of global marketing management experience.
Numbers limited.
Date and times: 
June 24, 2020. 08.00H UTC, 09.00H UK, 10.00H Europe, 16.00H Asia, 18.00H Australia
Make sure you reserve your place in this free webinar here.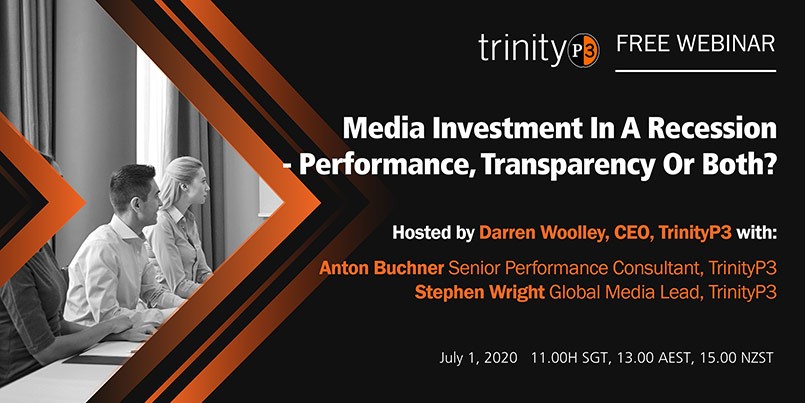 Media Investment in a Recession – Performance, Transparency or Both?
Since the release of the ANA / K2 Intelligence Report into media agencies in 2015, the industry (and the trade media) has been obsessed with achieving media transparency. But in the face of the coming recession following the COVID-19 pandemic, will marketers need to change the focus away from transparency to achieve the media performance required or is media transparency more important for making media investments go further? Or perhaps marketers will and can achieve both?
Hosted by Darren Woolley, CEO, TrinityP3 with
Anton Buchner, Senior Performance Consultant, TrinityP3 and
Stephen Wright, Global Media Lead, TrinityP3
Anyone involved in the media, either investing hard earned media budget, procurement teams overseeing the governance, media agencies, adtech partners of media sales should participate in this discussion. Numbers are limited so book your place here now.
Date and Times:
July 1, 2020 11.00H SGT, 13.00 AEST, 15.00 NZST
Make sure you reserve your place in this free webinar here.

WFA Global Marketer Week 2020
POSTPONED UNTIL 2021
In 2020 WFA's Global Marketer Week returns to South East Asia for yet another week of inspiration, discovery and learning. Once again, this promises a line-up described by one global CMO as 'the best I have ever seen at an industry event'.
DATE
March 31 – April 03, 2020
LOCATION:
Singapore, Singapore
More information available here

Mumbrella CommsCon – Sydney
POSTPONED UNTIL FURTHER NOTICE
Mumbrella CommsCon returns in 2020 with a dedicated interactive stream. Still featuring the industry's most senior leaders both local and global discussing the biggest topics in PR and communications, it will now be more hands-on than ever before including TrinityP3's Darren Woolley and Nathan Hodges providing a hands on guide to perfecting the pitch. From workshops to extended Q&As, discussion forums and debates, Mumbrella CommsCon brings the talking points of the industry to life in a one-day, three-stream conference. Tackling meaningful brand building, behavioural science, cultural trends, pitching and so much more, Mumbrella CommsCon is the only place to get a year's worth of inspiration, ideas and robust exclusive strategies in a business day.
DATE AND TIME:
April 2, 2020
LOCATION:
The Fullerton Hotel, Sydney

Mumbrella360 – Sydney
POSTPONED UNTIL FURTHER NOTICE
Mumbrella360 is back – bigger, bolder and better
Australia's biggest media and marketing conference, Mumbrella360, returns to Sydney in 2020. The conference is ready to attack the biggest talking points in the industry with discussions led by some of the best-known senior leaders from Australia and overseas. The 2020 event promises more interactivity, a wider spread of relevant topics, and sessions that will provide a completely new perspective on how the industry operates. From masterclasses to networking, presentations to interviews, if you go to one conference per year, make sure it's Mumbrella360.
DATE AND TIME:
June 2 – 4, 2020
LOCATION:
Hilton Hotel, Sydney