The confusing and complex world of digital marketing and data analytics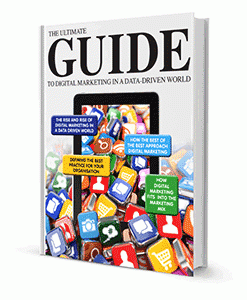 This comprehensive Guide will not only demystify the world of digital and data by explaining how it works, it will also help you put some logic back into your marketing approach.
There are no bells, no whistles, no hype.
This Guide simply aims to help marketers get back to basics, business logic and follow the path from confusion to clarity…
"I received my copy of the Ultimate Guide to Digital Marketing some time back and finally had a chance to sit down and read it on the weekend. Well researched and a very compelling read. I sometimes feel like an old hand in this game and yet there was still plenty I learned. I also think it's a cracking "how to guide" for businesses building a marketing strategy and plan from top and down and bottom up with digital infiltrating throughout! Great idea with the 100 day plan to round things out."
Michael Betteridge, AHL
Simply fill in your details to download all 10 Chapters of the Ultimate Guide to Digital Marketing in a Data-driven World now.
We hope you find the Guide valuable, and that it helps take your marketing approach to a whole new level.
Download the full Guide now.

What's in the Guide?
This definitive Guide has over 27,000 words featuring insights, tips, observations, tools, platforms, strategies and much more.
Chapter 1: The rise and rise of digital marketing in a data-driven world
Chapter 2: How digital marketing fits into the marketing mix
Chapter 3: How the best of the best approach digital marketing
Chapter 4: Launch with a rock-solid foundation
Chapter 5: Listening to customers to remain relevant
Chapter 6: The new four-pillar structure for developing digital ideas
Chapter 7: The never-ending campaign
Chapter 8: Understanding the art and science of performance data
Chapter 9: Educating your brand world
Chapter 10: Diving into digital in a data-driven world
Download the full Guide now using the form above.