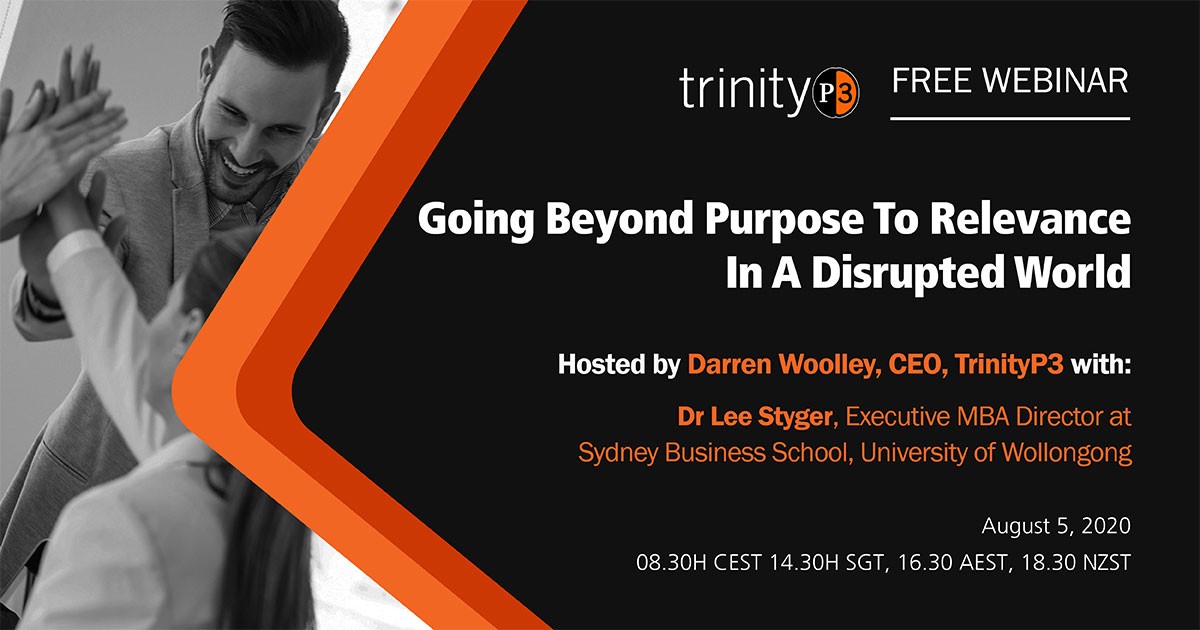 Topic: Going beyond purpose to relevance in a disrupted world
Date: Wednesday August 5
Time: 16.30 – 17.30H AEST
Presenters: Hosted by Darren Woolley, Global CEO, TrinityP3 with
Dr. Lee Styger, Executive MBA Director at Sydney Business School, University of Wollongong
Nathan Hodges, Managing Director ANZ, TrinityP3
Description: Corporate purpose. Or for marketers, Brand Purpose. These are hot topics. Except the massive shifts we are witnessing in consumer sentiment on major social issues are leaving most businesses and brands and their purpose exposed as nothing more than talk. Is it time to go beyond simply stating a purpose to proving your relevance in an increasingly disrupted world?
During the webinar we discuss:
The difference between corporate purpose and brand purpose
How can brand purpose work in a corporation of multiple brands
The relationship between purpose and promise
The difference between purpose and being good corporate citizens. And more…
Importance of relevance in negotiating and defining corporate future. Anyone interested in the concept of corporate purpose and brand purpose but looking for more will get value from this webinar.
Video Recording:
Relevant Blog Posts:
Managing Marketing: Sustainable Brand Purpose
When did advertising forget its brand purpose?
Managing Marketing: Brand And Corporate Purpose And Ethics
Click here to view other webinars.