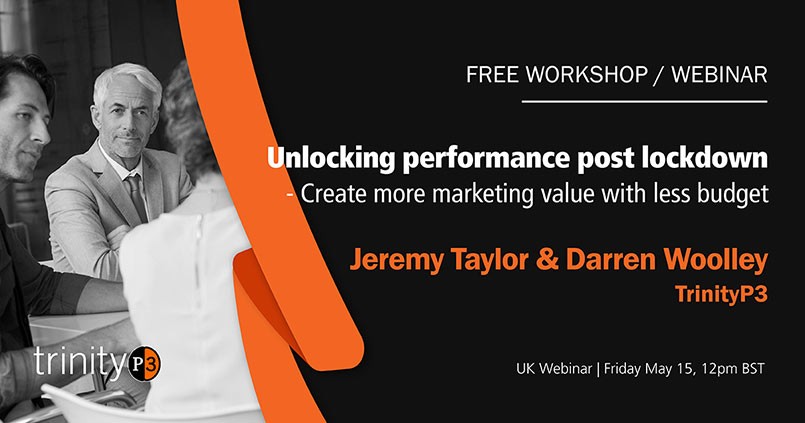 Topic: Unlocking performance post lockdown – Create more marketing value with less budget
Date: Friday May 15
Time: 12.00 – 13.00h BST
Presenters: Darren Woolley & Jeremy Taylor, TrinityP3
Description: The economic impact of the COVID-19 pandemic means that few organisations will have the cash resources to support their marketing activities. So beyond simply further cutting costs, how can marketing and procurement maximise the value of the marketing budget?
The past decade has seen cost reductions driven by simply lowering agency and supplier fees. While fees have gone down the outputs have increased exponentially due to complexity driven by technology. A more sustainable approach is to prioritise the marketing program based on strategic and financial value and thereby eliminate marketing waste.
Hosted by Jeremy Taylor, Business Director UK, for TrinityP3 and Darren Woolley, the Founder and Global CEO of TrinityP3 Marketing Management Consultants, who during the past two decades has advised marketers globally on improving productivity, performance and marketing value.
During this 1-hour online workshop titled 'Unlocking performance post lockdown – Create more marketing value with less budget' you will get to see your marketing plan and budget from a value perspective.
During the workshop we discuss:
Identifying marketing complexity
Applying strategic, financial and other priority filters
Managing the marketing plan and budget
Building value streams of implementation
Video Recording:
Relevant Blog Posts:
Choose the Right Agency Fee Model
What is the best agency remuneration model for every advertiser?
Five ways to use the Scope Metric Model to more effectively manage agency fees
Retained AOR or project fees? Which one is best?
Exclusive Offer: There are 5 free, 1-hour, customised consulting session on Marketing Complexity and Prioritisation to be given away.
To be eligible simple provide your details and tell us what you want to achieve in the workshop here.
Click here to view other webinars.