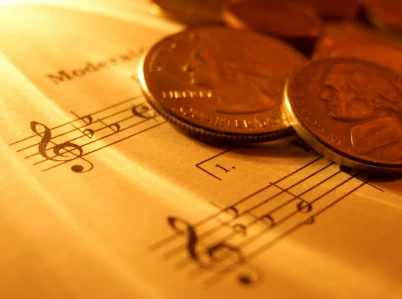 The agency has convinced you that U2's "Joshua Tree" will make your TVC an anthemic masterpiece. And let's say U2 actually sold the rights to their music for advertising (which they don't). And let's suppose they (unlike The Beatles) sold both the publishing and master rights to anybody with enough money to buy them. What happens next?
The agency contacts the company that has the PUBLISHING rights to the song. They inform the publishing company what product you're selling, duration of the campaign, territories the campaign will run in and mediums you intend to use (TV, radio, cinema etc). They also contact the company that owns the MASTER recording rights to the track.
Here things can sometimes become tricky. The Beatles for instance will sell you the publishing rights to their music but not the master rights. So you can buy a song and get someone else to perform it, but they are not allowed to sound like the Beatles (this is known in the industry as "passing off" and is legally prohibited).
Or let's say you have chosen a track that has both the Publishing & Master rights up for sale and you negotiate one fee with the publishing company and another fee with the holders of the master rights and at the end of both written quotes are the words "Most favored nation rights apply" which means if one fee is higher than the other then you have to pay the higher fee to the holder of the other rights even though they quoted you a lower price.
Also when you purchase the rights to a piece of music it is usually non-exclusive beyond your product category. So you may find that your car commercial is sharing the same song as a shampoo commercial (although this is not a common occurrence and is directly related to how much you spent on the rights in the first place).
Ultimately, music negotiations can take some time so if you want your agency to get the best possible deal make sure they have reasonable lead time. Let the publisher know that their particular composition is one of a few you are considering (competition real or imagined always leads to keener pricing).
Music can quite often drive a TVC and become synonomous with a product or company, so it is important to get it right. Don't let your own emotions drive your choice or expenditure without finding out exactly what your target demographic thinks about the proposed piece. Then you need to consider what the options are, and what is the most cost effective.
Author: Darren Woolley
Want more articles like this? Subscribe to our newsletter: