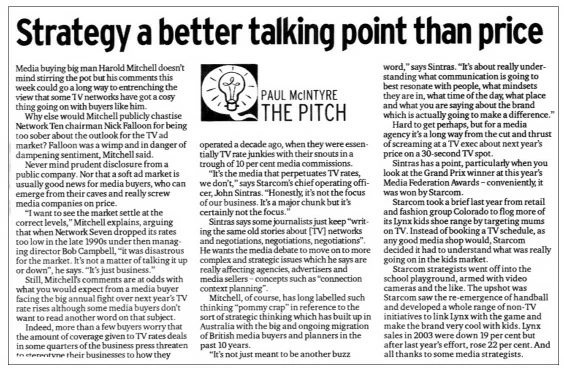 Good buying is no longer enough.
With media market fragmentation and tremendous growth in the options available, the capacity to get things wrong in the planning area has increased enormously.
"The wrong environment will never be the right price".
Usually the evaluation of planning has been an arbitrary process lacking hard metrics by which a Media Agency's performance can be fairly and accurately assessed.
But with the TrinityP3 Media Strategy Assessment, marketers are getting significant and tangible improvements in their media agency strategy planning.
Operating since 2007, one of our clients has seen the quality of their media planning improve significantly and continue to be maintained.
A financial services client introduced the TrinityP3 Media Strategy Assessment process 4 years ago, soon after appointing a new media agency.
Undertaken on the media strategy and planning for the primary brand activity each year the agency, using the ten point planning score below, sscored 6.3 in 2007 and rose to 9.0 the following year and has been maintained at 8.0 and above in the following two years.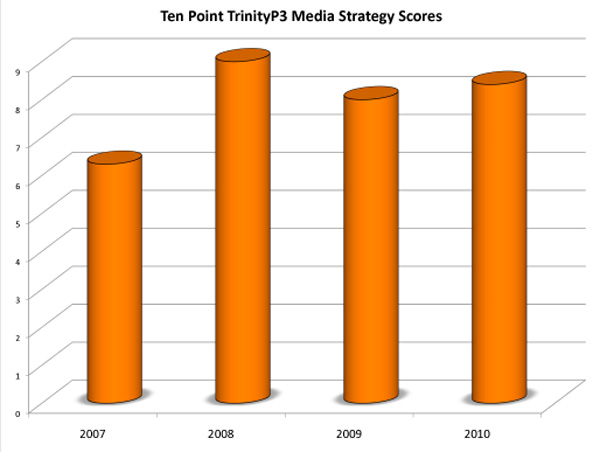 Using the TrinityP3 Media Strategy Assessment process, the marketing team and the agency report improvement in both the process and the outputs by focussing marketers and agencies on maximising the potential of the media opportunity at hand.
The process firstly assesses the opportunity provided to the agency based on:
1. The Media Brief
2. Time allowed for planning
3. Limitations and restrictions
4. Existing learnings
From this platform the agency's response is evaluated against the 10 aspects of the planning process.
1. The usage made of consumer and audience insights contained within the brief.
2. The understanding shown of the communication task and the meaningful translation of this into the media area.
3. The thoroughness of the investigation of the target audience's media consumption habits.
4. The calibre of the media selection process and rationalisation of the media mix chosen
5. The creative usage of the media chosen
6. The care taken with the placement of activity within media
7. The level of recognition shown to the creative material and extent to which it was leveraged in campaign delivery.
8. The consideration of new media and marketing options demonstrated (but not necessarily used)
9. Linkage with other media/ marketing options achieved.
10. The performance of the campaign versus objective (sales or other marketing measures)
Interested in finding out more?
Want more articles like this? Subscribe to our newsletter: