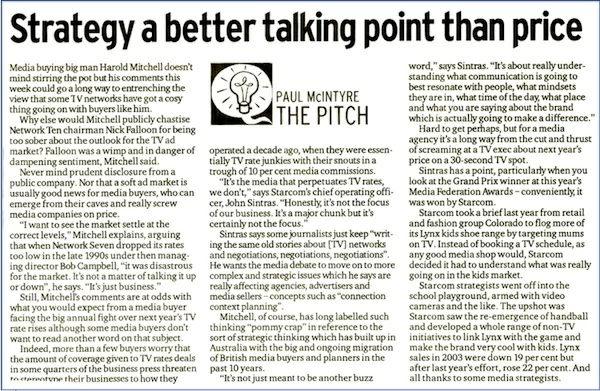 Cheap media can be like discount beef for a Hindu or half price pork for a Hasidic Jew. There is no point saving a fortune on the buy if the product you are buying is wrong for the audience.
Yet many marketers can be so obsessed with how much they are paying for media they forget to consider if what they are buying is right.
Almost anyone can buy for a good price these days
With a collection of major buying groups, client specific media agreements and buying strategies depending on the state of the media market, most advertisers are in a position to buy cost effectively.
In fact, in seven years of media buying benchmarking, the only time we had an advertiser who was buying above the market rate was because they had poor buying processes in place, consistently allowing too little time to effectively negotiate the campaign-by-campaign deals.
Based on this experience, at best, marketers need to ensure they have the appropriate processes in place to ensure they are buying media effectively.
Media options are expanding and changing rapidly
The issue of media strategy has become critical in the face of unprecedented audience fragmentation and the ever-increasing number of media options available to advertisers.
While much of the discussion is about the emergence of the digital platform and the many channel options this has provided, traditional media channels are embracing technology to expand the options they offer. Interactive and digital OOH, print publishers carrying video and television facilitating social media.

The increasing number of new channels and the corresponding decrease in the effectiveness of traditional media means that developing effective media strategies is becoming more complex.
Many advertisers are being left behind in the rapid change
The problem is that many advertisers and their media planning and buying providers are still working within a traditional paradigm. Focusing primarily on media cost overlooks the increasing importance of strategy in ensuring the right media is being selected.
Even at the lowest possible price, the wrong media selection is no bargain.
Therefore it is important to focus on ensuring the right strategy process and resources are in place.

 The right strategy process delivers maximum value.
About four years ago we developed a benchmarking process to ensure advertisers and their agencies have the most robust and effective media planning and strategy process.
The TrinityP3 Media Strategy Benchmarking evaluates both the advertiser's process in creating a platform from which the media strategy can be developed and then evaluates the media strategy process to ensure the agency is delivering the full potential of that platform.
Scores are provided for all elements of the strategic process providing absolute clarity on the quality of the media planning process undertaken.
What do you do to improve your media strategy?
Want more articles like this? Subscribe to our newsletter: