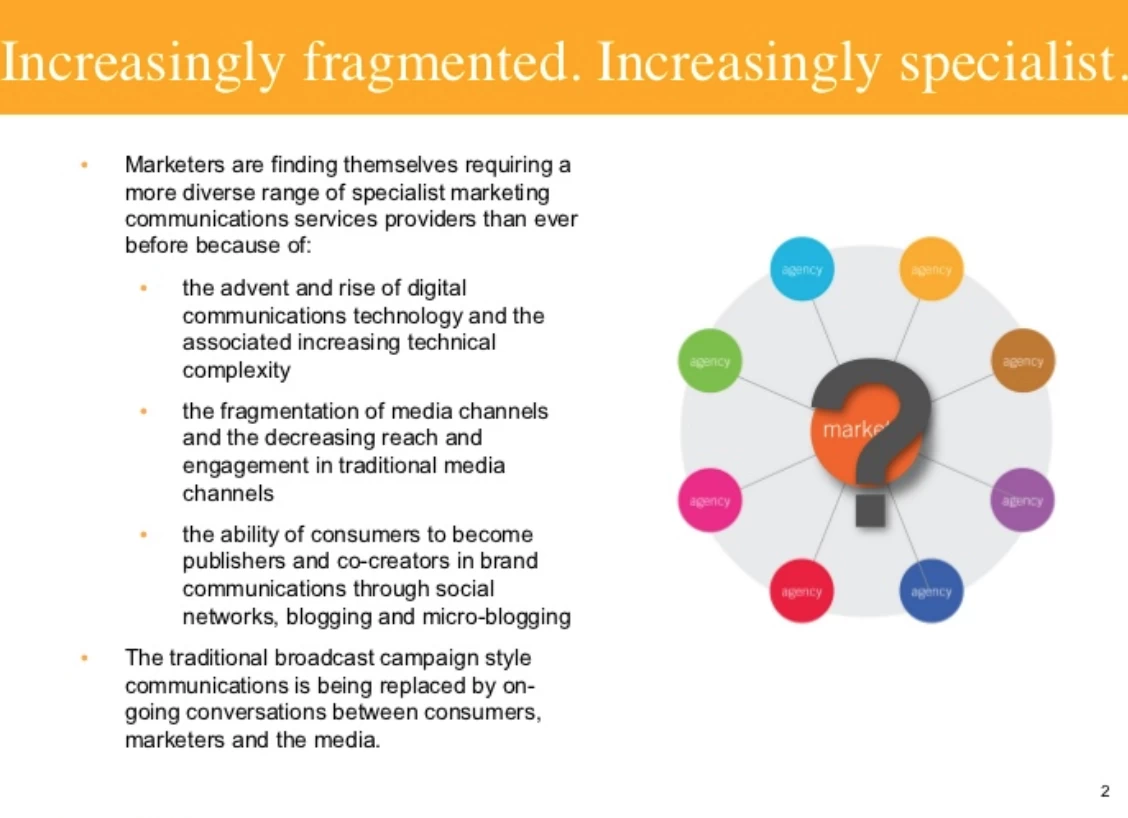 It is amazing how often a conversation about tendering for a new agency occurs without any substantial reference to the overall roster structure. The desire to appoint a new media agency, a new creative agency or a new digital agency is often made in apparent isolation. In late September I had a discussion with a Marketing Director about the desire to review all of their "major" agency suppliers – this being the three agencies where almost 90% of their budget was currently invested.
This opened the conversation beyond simply "who is the right supplier and how do we find and choose them?" to a conversation about "what is the right roster structure to deliver our strategic requirements?"
As a guide and as stimulus for this conversation I use the presentation above outlining the various major roster structures and the relative strengths and weaknesses. The main agency roster structures are:
The Full Service Agency
Holding Company Model
Created Customised Agency
Lead Agency
Strategic Group
Best of Breed
There is no one correct structure and in fact there are many hybrid models of these structures that all function effectively. The important step is to define the strategic requirements and match the roster to those requirements.
Therefore when the Marketing Director was talking about the major shift they had in mind for the brand beyond simply position, but one that would impact the marketing investment mix and the channels, it was the ideal time to review the overall roster structure to ensure it was aligned to the new strategic marketing requirements.
This approach then made it much easier to then assess if the current supplier structure and mix was aligned, by defining the requirements of the supplier roster strategy. I am a big believer in the strategy of "changing your agency is smarter than changing agencies" and have found that this approach ensures that most of the emotional and subjective drivers for the new Marketing Lead to change agencies are put to one side and a more strategic approach based on the immediate and future requirements of the brand is embraced.
Even if this strategy leads to the incumbents being asked to re-pitch for the business, it is done with clear requirements in place for which they can prove their suitability rather than being led through a process to be rejected for often ill-defined and usually personal reasons.
And I have found a good starting point for this is to review the current roster structure against the various models available.
I would be interested to know if you have worked with a roster structure outside of the ones I have defined here?
And how successful was it?  And under what circumstances?
Let me know in the comments here.
Want more articles like this? Subscribe to our newsletter: