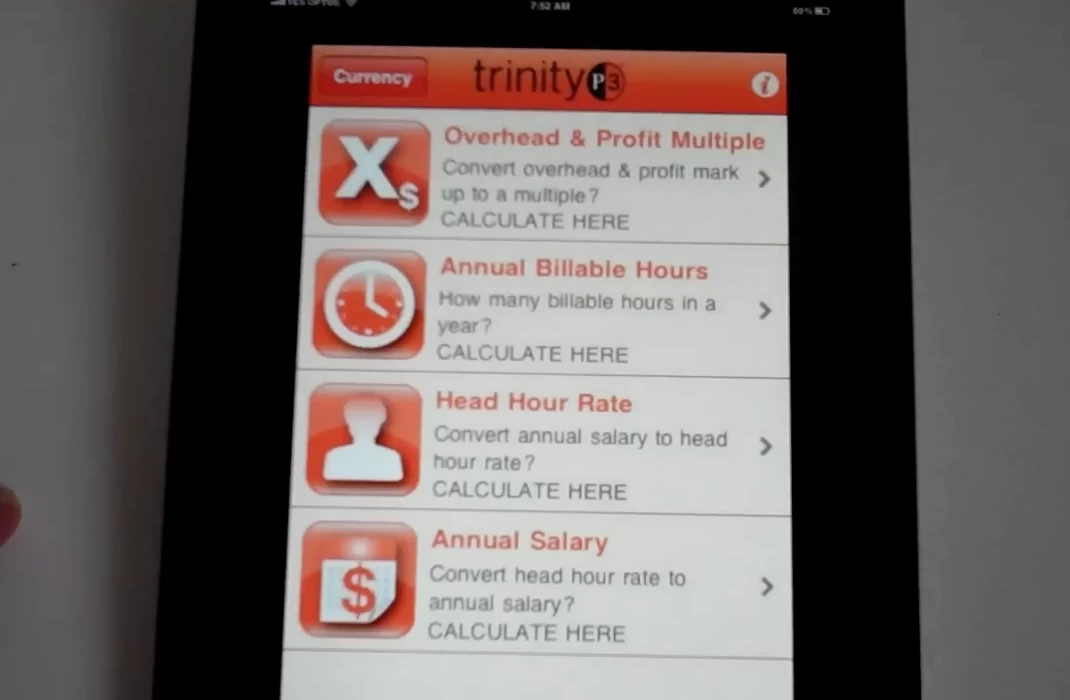 Due to the constant updates to the operating systems of the iOS requiring updates to the app, we have discontinued the Resource Rate Calculator app as of June 1, 2020. Instead you are able to use the calculators here.
Thank you.
I was having a coffee with a friend who was a recently-redundant creative director at one of the larger agencies around town. He had decided to now go out on his own, funded by the redundancy package from the agency. And while in the past he would rib me about "lowering the quality and price of television productions" I suddenly had something he needed and that was advice on how to calculate "charge out" rates. (i.e. What rate per hour he would need to charge out himself and others to make profit).
I pulled out my iPhone and started to show him the TrinityP3 Resource Rate Calculator Business App available from the iTunes App Store.
Taking him through the steps and how to use it, he looked at me and said "I wish I had this to negotiate my pay rises with the CFO at the agency". Looking at him quizzically, he went on to explain that for the last three years his annual pay review involved the agency management explaining that times were tough and there were no pay rises for him or his staff. A message he begrudgingly passed on to his creative teams.
However, if he had known about the relationship between salary and billable hourly rates he would have realised that him and some of his staff were being billed at multiples of 3 and 4 times based on the billable hours per annum and salary rates.

This provides a great negotiation point when looking for a salary increase. Using the example in the video above:
An overhead and profit multiple of 2.5 and billable hours of 1650 hours per year means that being billed out at $400 per hour means that the annual salary (cost to business including pension / super and package) should be $264,000.
Try out the TrinityP3 Resource Rate Calculator iPhone Business App. It is free and it could earn you a pay rise.
Let me know how you go.
PS: For those without an iPhone the calculators are available here.
Want more articles like this? Subscribe to our newsletter: