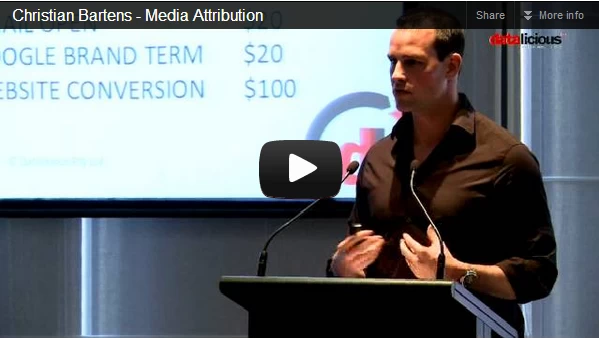 This post is by Darren Woolley, Founder of TrinityP3. With his background as analytical scientist and creative problem solver, Darren brings unique insights and learnings to the marketing process. He is considered a global thought leader on agency remuneration, search and selection and relationship optimisation.
We provide media buying benchmarking for many of our clients. In a way, this is a measure of media value, as it is ensuring that the price paid for the media in relation to price, environment and audience delivery is no more or less than is being paid in the market place at that time.
But a more relevant measure of success would be the value that that media investment delivered as a return – either as a return on marketing investment (ROMI) or return on objective (ROO).
This is media attribution.
At the Boosting Media Value session on October 4 this year, I spoke on The Media Value Chain – where media value is created, hidden and lost. The very next speaker was Christian Bartens, Managing Director, Datalicious who spoke about the media attribution work they do.
As Christian explains, the idea of last click attribution (that is the last click the customer makes on line before your website) usually favours search engines like Google and Bing as this is the mechanism many customers use to find your site.
But why were they searching in the first place? What other media contributed to this final click to reach your site?
It could be that someone saw your banner ad and rather than clicking on it (only 2.1% of people click on banner ads)  they entered the keyword phrase into a search engine to see what was available – either paid or natural search.

Attribution modelling apportions or attributes the role the banner ad played in getting to your site.
Media attribution modelling also allows you to attribute the role offline media such as television, radio and print play in driving customer behaviour.
So while benchmarking media buying can tell you how much you are paying to market, it cannot tell you the contribution the same media is making to the ROMI or ROO. But the attribution modelling that Datalicious and companies like this provides, gives greater insight into the value generated by that media investment.
By developing an attribution model for your business you are able to better optimise your media investment and deliver greater media value.
Are you using a media attribution model? Leave a comment to share your experiences.
Want more articles like this? Subscribe to our newsletter: