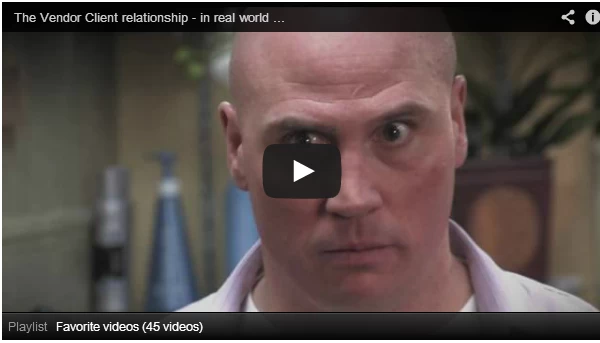 This post is by Darren Woolley, Founder of TrinityP3. With his background as analytical scientist and creative problem solver, Darren brings unique insights and learnings to the marketing process. He is considered a global thought leader on agency remuneration, search and selection and relationship optimisation.
Usually when you hear of complaints by agencies about their remuneration negotiations and deals, there is often a procurement person involved. It is very easy and convenient to complain about procurement, because often they take a very direct approach to achieving the company financial objective.
But it is not always procurement. In recent months we have had a number of occasions where marketers have gone bad in agency negotiations. Here are three that may be of interest.
(I have shared this video before, but I think it is very appropriate and funny enough to share again)
Case 1 – The strategic meeting
A marketer phoned and explained he was in the middle of protracted negotiations with his agency regarding the renewal of their contract. He asked if I could take a meeting and we made a time in the afternoon, later that week.
During the meeting at his office, we discussed the issues encountered in the negotiation. Typically there was no defined scope of work and so the agency had expectations of a higher fee to meet the higher level of resources they claimed were required. The marketer was looking at lowering the agency fee to accommodate the tightening budget.
I suggested that by benchmarking the agency resources against the scope of work delivered, we could then have a substantiated baseline from which to calculate the following year's scope of work. The issue for the marketer was that they were unable to commit to a defined scope of work. In the end he asked for a proposal and an example of the format the report would take.
At the end of the meeting he walked me out to the foyer of the office and said good-bye, reminding me to send him the proposal and example in the next couple of days. As I turned to go, I noticed the agency sitting in the foyer, waiting for the marketer as his next appointment.
The proposal and report example were sent and I followed up for a few weeks sending emails and voice messages. None were returned until about a month later. He chuckled as he informed me that the negotiation was complete and that the agency had come to the party fairly quickly after seeing me in his foyer that day.
Case 2 – Misrepresentation
You pick up the phone and on the other end is the CFO of a major agency demanding to know if you are going around saying that the 'average' overhead margin is 60% and that the overhead and profit multiple for a creative agency is 1.76.

This is effectively a 10% profit mark up and a 60% overhead mark up on direct salary costs and certainly some of the lowest in the market. But not the lowest and certainly not average.
First I explained that I would never give that advice. And next I asked who had said I had? Needless to say he was taken aback and told me the client he was in negotiations with. It was now me who was surprised. The marketer is reasonably well known, but I have never had any interaction with them directly in the past and TrinityP3 had never undertaken work for this company.
The Agency CFO was adamant that the marketer and their team said they had advice from us and from me in particular. I was shocked. I offered to write a letter for the agency stating that I had not provided this advice and that in fact for the market, a typical overhead and profit multiple for the category is between 2.2 and 2.4.
The letter was used by the agency to continue negotiations. But I do not believe I will get any work from this marketer in the future. But then again, I had never had any work from them anyway.
Case 3 – Open-sourcing ideas
A major multinational marketer had a number of discussions with me in regards to moving their agency arrangements from a comprehensive retainer to a value or performance based model. I shared with them the resources we have published here on the blog and on our Slideshare page. We were asked to provide detailed proposals with timelines and methodology.
Then they went silent.
About a month later I had a number of agencies contact me asking if I can help them  develop an innovative remuneration model. As one of the agencies said "after all you are the thought leader in this space". Very flattering, but leaves me with a problem.
TrinityP3 does not do paid work for agencies, or any supplier to our clients. In this way we are never compromised or conflicted in the advice we give (unlike some of our competitors). So if we were to help the agencies we would be doing this for free.
It was then that I put the pieces together. The agencies that had contacted me with the same request were all on the extensive roster of the same advertiser – the marketer who had asked me for all the information on how we would do this. Now they have put the onus on the agencies and the agencies have turned to me.
I decided to contact the marketer and told him that a few of the agencies had approached me for advice and assistance. They had not told me who the client was but I put two and two together. The marketer denied it was them. But I could feel the awkwardness through the phone line.
What to do when marketers go bad
From an agency perspective:
If you feel that you are being intimidated by our involvement, or the threat of our involvement, please make contact and lets discuss.
If you feel that the advice we have provided to your client is unfair or incorrect, then ask to firstly see it in writing, or again call us to discuss.
If you want help and advice on remuneration, especially value and performance based compensation, please check out the resources we provide. Or perhaps you can even suggest to your client that they engage us. (we do not get paid on savings but work to create fair and sustainable remuneration).
From a marketer perspective:
If you want to save time, don't waste time playing games with your agency. We are happy to help. And that is better than being found out.
While it may seem like a good idea to get the agency to propose the remuneration model, it is rare to end up with an innovative solution.
If you have not allowed budget for our advice, still give us a call as it is often a miracle what we can do for less than 20% of the cost of your last television commercial, 40% of your print campaign or 60% of your last lot of online rich content banner ads.
Do you have any examples of marketers going bad? Let us know. Tell us the story here with a comment. But preferably no name to protect the guilty.
Want more articles like this? Subscribe to our newsletter: