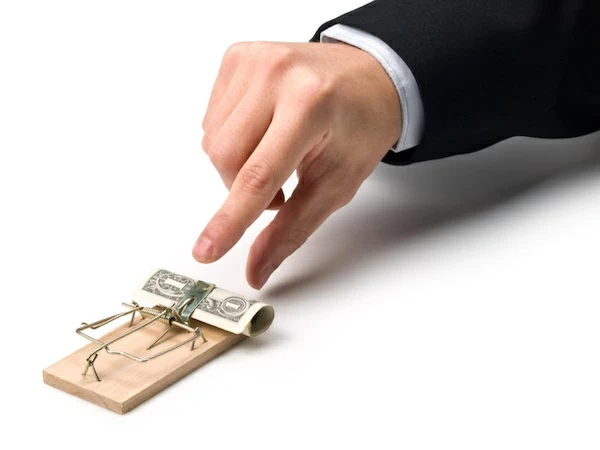 This post is by Darren Woolley, Founder of TrinityP3. With his background as analytical scientist and creative problem solver, Darren brings unique insights and learnings to the marketing process. He is considered a global thought leader on agency remuneration, search and selection and relationship optimisation.
One of the things that we have always held sacrosanct at TrinityP3 is the concept of independence. What I mean is that we provide totally independent advice to our marketing and advertising clients. This means, as stated on our website, that we do not do work for advertising agencies or any suppliers or vendors of our clients.
But recently conversations with marketers and procurement professionals in the industry make me question if this is such an important distinction. It appears that independence is not that valued if it means lower costs.
Making money from agencies and suppliers
Believe me, I know the attraction. Adding agencies and suppliers to your client base effectively more than doubles your revenue opportunities. As marketing procurement is a relatively niche consulting practice, it is a very attractive way to increase the revenue base, especially at time of financial constraint. And as a consequence, many of our competitors generate income from agencies and suppliers in a number of ways:
They demand annual fees from agencies to be in consideration for new business opportunities (often packaged with services and advice)
They charge agencies fees to participate in a pitch, or are to be paid for a successful outcome
They provide consulting services and training to agencies for fees
They split the cost of their services between agencies and advertisers
My experience is that consultants who are paid by both marketers and agencies or suppliers, can end up confused as to whom they are working for. Yet I have heard many competitors justify this situation by saying that they work for both.
But do they?
Why should marketers and advertisers care?
The benefits of selecting a consultant that is paid by agencies and suppliers is their fees are usually lower. The agency fee is subsiding the consulting fee. Be that for pitch management, agency relationship management or negotiation / issue resolution.
Lower prices, but at what cost?

A discussion with one of our marketer clients recently was eye opening. I was explaining that we do not do work for agencies or receive payment from suppliers in order to maintain our independence. They said they did not care. In fact they felt that if they got a lower cost and we got to know agencies better through working for them then it was a win/win situation. They completely failed to see the potential conflict of us acting as new business agents for the agencies, rather than as independent brokers for them.
The conflict of agencies paying registration fees
There are a number of consultancies around the world that charge agencies a fee for being on their register. The benefit for the advertiser is that they provide a very low cost service subsidised by the agencies. But the problem is that they are working for the agencies and not the advertiser. The majority of their revenue comes from agency fees.
The other problem with this approach is that the agencies under consideration are often only those that are registered and paying fees. Increasingly agencies are rejecting this model and so you find that consideration is not market wide, but only those paying the consultant fees.
Also the agencies paying these fees rightly demand value for the fees they pay. Either in new business or added value. This is why these consultants are increasingly offering consulting services as part of the annual fee, but you can imagine the agencies would be wanting to receive a return on that investment. The pressure on these consultants to deliver results is significant.
The inequity of paying success fees
There is another common practice in pitch consulting, which is to charge success fees. Best practice has this as open and transparent to client and agency. But often hidden behind consultant enforced confidentiality agreements are deals and payments to the consultant.
Besides, the cost of pitching is significant and borne by the agency, win or lose. To have an additional consultant fee added to the successful agency means the cost of the win is increased. This cost will then have to be recouped from the client through fees or less experienced agency staff billed at a higher resource price to the client.
The success fee also makes a mockery of the idea of paying agencies pitch fees. The consolation prize for the losing agencies becomes the bonus for the consultant.
Dangers of providing agency consulting services
My marketer friend said that by providing consulting services to agencies they felt that would mean we would know the agencies better. I explained that we meet with agencies regularly. In fact we spend many hours de-briefing and advising agencies that participate in our pitch reviews, all at no cost to the agencies or our clients. We do this to provide value and improve the performance of the industry generally. They were incredulous that we do not charge for these services.
A colleague of mine in the Marketing FIRST Forum shared a situation that they recently witnessed. In a pitch for a client (yes pitch consultants increasingly have to pitch too) a competitor was grilled by procurement because in their tender response they had indicated they had provided consulting services and training to the advertisers incumbent agency. It seems that procurement sees the potential conflict here. But not marketing?
The false economy of sharing costs with agencies
It is becoming increasingly common for consultants to charge both advertisers and their agencies for services such as relationship management or process optimisation consulting. The idea being that both parties benefit from the process therefore both should pay.
While I agree with the principle if the transaction is open and transparent, what is not transparent is the amount of revenue the consultant is being paid by individual agencies across all of their clients. You see it could be that their core clients are primarily using a handful of agencies and therefore most of the revenue is coming from these agencies. While the amount is obvious and transparent to each client, when the consultant provides services to a third client they do not reveal how much they are getting paid by each agency.
Also, ultimately it is the client that pays. The cost of the consulting services is often forced upon the agencies as part of the deal. But they need to recoup this cost either by passing it on to the client through fees and overhead or by reducing the cost of their business by recruiting lower priced and therefore less experienced resources to the business at a higher resource price to the client.
The need for transparency?
At a time when the industry is struggling with issues of transparency surrounding media agencies and the media buying process, the same issues should also apply to the consultants working in this space.
Or should it?
Do marketers really not care about issues like transparency, integrity and conflicts of interest, if it means they get a lower price? A lower price subsidised by the very agencies they work with? Ultimately who pays? The advertiser.
Don't get me wrong, if my clients don't care, why wouldn't I join the throng of consultants dipping into the money pot on both sides of the transaction. I would be able to plan my retirement earlier. But I am still a believer in honesty and integrity and hope that there are enough marketers (and their agencies) who value the same.
Let me know if I am right or not.
Want more articles like this? Subscribe to our newsletter: