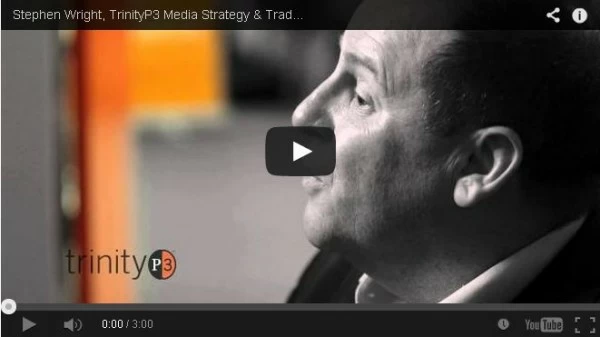 This post is by Darren Woolley, Founder of TrinityP3. With his background as analytical scientist and creative problem solver, Darren brings unique insights and learnings to the marketing process. He is considered a global thought leader on agency remuneration, search and selection and relationship optimisation.
As TrinityP3 continues to grow, so does the team of professionals within the company and the depth of experience and expertise. Therefore I want to take this opportunity to introduce some of the core team members and their expertise, before having them answer three questions on what they do being:
What are the challenges facing marketers today in their area of expertise?
How does TrinityP3 assist marketers in this area?
What advice would they give to any marketer facing these challenges?
TrinityP3 Business Director Stephen Wright originally joined TrinityP3 and built the media consultancy following the purchase of  Dennis Merchant's Mediabenchmarks. Then, after two years as New Business Director at Starcom MediaVest Stephen recently returned to TrinityP3 with an intimate understanding of the challenges and issues being faced by media agencies and their clients.
Dennis Merchant is a vocal critic of the Media Audit and in fact TrinityP3 has stayed true to this belief, focused not on media costs but the importance of the delivery of media value in both strategy and trading. Rather than focusing simply on media rates and cost, TrinityP3 works with our clients to identify where media value is created, lost and hidden.
We also work with our clients to discussing pressing media issues such as transparency, programmatic buying, performance media and managing owned, earned and bought media. At a time when media continues to be the single largest investment for advertisers in a landscape which is increasingly complex and challenging Stephen has excellent advice for those wanting to achieve greater media value from this investment.
Q1: What are the biggest challenges maximizing media value?
The biggest challenge facing marketers is the nature of change in the media marketplace.
Things are very different now to how they were a few years ago.  And it takes a lot of time and a breadth of understanding to work out how to spend funds to optimal effect.  Understanding what you don't know is a key challenge.

At TrinityP3, we have a dialogue with all agencies across the marketplace on all aspects of business so we're able to advise clients on what they haven't got that they don't know about.
Underneath this is the importance of measuring success.  In an era of performance measurement, data and analytics, it's critical to understand how your data can be married with the media data to ensure that you're spending your funds to optimal effect.
Q2: How can TrinityP3 assist in achieving this?
Relativity on pricing is another way in which we can help clients.
Every agency tells every client that they're buying a great rate.  We have full visibility of what all agencies are paying across all media so we can advise you whether your agency is really buying well for you or otherwise.
Then there's the issue of optimising the paid, owned, earned equation ensuring that they don't spend any more than they have to on paid media and optimise the amount of activity they have and they place through owned and earned.
Ensuring your media agency is integrated to optimal effect is another thing we can help with.  We work with a lot of clients and understand the ways in which media agencies can work to best effect.
Another challenge is ensuring that you maximise the effect of your media budget.  In an era of data and analytics and performance measurement, it's important that you marry your business metrics with media metrics to understand you're spending your money to optimal effect.
Another area we can help is in performance measurement.  We can help you establish the performance indicators that are most valuable to you and then help you independently assess whether your media agency is delivering against them.
Q3: What advice would you give marketers on media?
The advice I'd give to marketers is to invest time in the media area, to challenge your media agency, to challenge the status quo to ensure that you continually improve the value you get out of your media budget.
Another thing to do is to look up and get broader market relativity, to look at what other clients are doing in other categories and see if those things will work well for you in your category.
But most importantly, what you must do is ensure that you're moving from the measurement of media metrics to business metrics as fast as you can.  That you're doing everything you can to make sure you understand the effect that you're media budget is having on your business performance.
To read more of Stephen's insights and knowledge on media strategy, trading and more, check out his posts on the TrinityP3 blog here.
Video production by Phil Rich – 2 Feet Films
Want more articles like this? Subscribe to our newsletter: