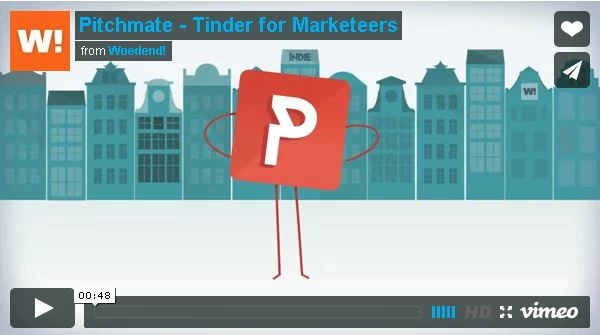 This post is by Darren Woolley, Founder of TrinityP3. With his background as analytical scientist and creative problem solver, Darren brings unique insights and learnings to the marketing process. He is considered a global thought leader on agency remuneration, search and selection and relationship optimisation.
A few months ago my Canadian Marketing FIRST Forum colleague, Stephan Argent, sent me an email with a link to this video for a new phone app called Pitcher,  with the words "WTF!!! Serious? And rubbish!". But I think that Stephan was perhaps overreacting.
You see this phone app is billed by the creators, ad agency Woedend!, with the content supplied by Amsterdam Ad Blog, as Tinder for marketers. Available on iOS and Android the app allows marketers to swipe through Amsterdam agencies until they find an agency they want to hook up with and add to the pitch list.
Has it gone from marriage to a one night stand?
When you read the article you understand that this is not so much a viable alternative to selecting agencies, but in actual fact a genuine shout out to the increasing promiscuity demonstrated by many marketers.
As Merien Kunst, Creative Director at Woedend! explains "The current pitch culture [in the Netherlands] is not sustainable. Brands are increasingly flirty, and agencies need to invest more time and money in smaller projects and shorter relationships."
When I started managing pitches more than a decade ago, many in the industry described it as being a matchmaker, with the implication that it was about establishing long-term, sustainable and productive relationships between marketers and the successful agency.
Once the agency was appointed, the big issue was if the relationship would make it through the seven year itch, which simply reinforced the concept that this was a marriage.
But with procurement processes taking a highly productive and successful relationship to market every two to three years as a routine, is this still a valid notion of the pitch outcome? Or is the fact that marketers (and some of their procurement handlers) made this more about a fling or a one-night stand and less about a relationship?
Is it more Madam than Matchmaker?
When Michael Lee started his pitch consultancy Madam in 2012, there were many in the industry bemused by the name. But clearly Michael saw the trend and could see that the role of the pitch consultant was increasingly becoming the madam, setting up the desired liaison.
Earlier this year Avi Dan effectively called the end of the traditional Agency Of Record (AOR) arrangement, meaning that marketers no longer wanted monogamy in their relationships. But what was not clearly defined was, does this mean that they will move to polygamous relationships or just to casual hook ups?
When you look at many brand rosters, it is not unusual to see there are multiple agencies on the roster. Sometimes this is simply duplication and other times it is simply a way to obtain the spread of capabilities the marketing strategy requires.
Is there a backlash to monogamy?
In recent times we have seen in the Australian market, brands such as Honda and Diageo consolidate their advertising roster into one main agency.
In fact, in the case of Diageo there is a move to, as Sir Martin Sorrell famously called it "put the toothpaste back into the tube" by moving media, along with many other services, into Leo Burnett.
We have to consider the fact that in both of the cited examples, it is the one agency. Therefore rather than being a trend, it could be that Leo's just makes a great spouse. But this trend has been seen oversees in the past few years with some very significant advertisers too.
You can see the potential benefits of moving back into the AOR relationship. Rather than spending all your time trying to get a multitude of agencies working together, you have one agency managing it all for you. It was David Morgan, not long before he left Nestle, who complained publicly about how much time his marketers were wasting managing their agency roster.
I have discussed the strengths and weaknesses of the two roster structural options (and all the alternatives in-between previously). Ultimately it comes down to complexity of the brand's requirements, the diversity of the capabilities they require and the ability of any agency to deliver this complexity and diversity to the level required by the brand to deliver success.
Are you up for a relationship, a fling or a just a hook-up?
Although many in the industry talk about the benefits of long-term 'marriage-like' client / agency relationships, there is clearly an increased number of marketers opting for the occasional fling or even just a hook-up. Ultimately it is the advertisers choice how they engage their agencies and suppliers. It is also the agency's choice in how they choose to be engaged.
The most important things to consider when engaging an agency are:
What is it specifically that I am engaging the agency to provide? (Important to be very specific to ensure you get what you need and not just what you want)
Is this something I cannot obtain from an agency already on the roster? (Why go through this process just to get more of the same?)
How long and what level of budget do I plan to spend with the agency? (To define what is in it for the agency and to ensure you can both afford it and not get in too deep)
Is my selection process commensurate with this? (Make sure the effort of the processes reflect the rewards and relative risks of the outcome)
Have you clearly communicated your intentions and expectations upfront? (The last thing you need is an agency expecting more than you are willing to give)
As long as you are clear, focused, up-front and fair, then no-one should get hurt. If you are looking for something meaningful and longer term, that takes time and effort and is hopefully rewarding. If you want something more short term and transactional, that is fine too. Just don't confuse the two or someone will end up getting hurt.
As for Pitcher, if you are looking for agencies in Amsterdam, check it out. It can't be any worse than most of the directories available on-line and may even be fun.
To find our how TrinityP3 Marketing Management Consultants can help you further with this, click here.
Want more articles like this? Subscribe to our newsletter: