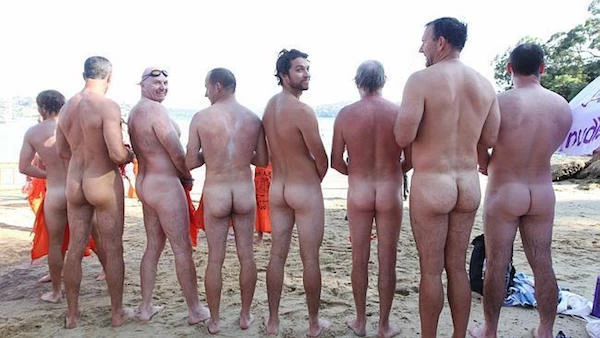 This post is by Darren Woolley, Founder and Global CEO of TrinityP3. With his background as analytical scientist and creative problem solver, Darren brings unique insights and learnings to the marketing process. He is considered a global thought leader on agency remuneration, search and selection and relationship optimisation.
On March 1 this year I participated in my first Sydney Skinny. I can say it will not be my last. For those unaware of the Sydney Skinny, it is the world's largest organised skinny dip – nude ocean swim.
Author, adman and social entrepreneur Nigel Marsh raises funds for a number of associated charities and causes, and started the event three years ago. Nigel was also instrumental in getting me to take the plunge.
Along with more than a thousand other people, we all gathered for our nude swim.
Apart from being a fabulous way to start the day, made even more marvellous by the amazing Sydney weather, it made me reflect on the performance we put on in daily life and how this often gets in the way of making a real connection. Especially when we are trying to make someone like and respect us – such as during an agency pitch.
Picture the audience nude
I remember doing one of those many presentation-training sessions when I worked in agencies. There seemed to be a new presentation technique or approach every other month. But in this particular one, they advised that one way to overcome nervousness was to simply picture the audience you are presenting to as being naked, nude, starkers, not a stitch on.
The theory was that in the process of imagining them without clothing you strip away their power as you could not be scared or afraid of something you found amusing. As a man, this could be embarrassing if you were presenting to a room of top models.
But in actual fact I believe it was more a distraction technique.
At the Sydney Skinny, it was quite an opportunity to put this to the test. You see, I did not have to imagine the audience without their clothing, because there on the beach everyone was naked.
The fact is that being publically stripped of your clothing is actually quite a liberating experience. (You can tell this was my first time, right?). You overcome the last shred of self-consciousness of being naked because of the fact that everyone else is naked too.
And there is a huge sense of connectedness because you realise we are all just a group of people standing on a beach on Sydney Harbour.
Standing naked and alone
The experience would have been very different if I was standing on that crowded beach and was the only one that was naked. I can only imagine the sense of humiliation I would feel having people look at my naked body while they were protected by their clothing from judgement and ridicule.
That thought reminds me of presenting my own creative work to a client for approval. In many ways the concept you have created is part of you and to stand there presenting this idea of yours for approval, was like standing there naked as someone critiqued and judged your creation.
I remember one client who was so busy having lunch that he requested we come and present our concepts in The Botanical Hotel on a Friday afternoon. At the next table was the creative department at a rival agency and as the Creative Director I had to present the concept for approval. It was a very challenging experience. But it was made bearable by the other agency holding up napkins, scoring my performance. Luckily it was eights and nines.
But what if we were all sitting there naked in that restaurant? What if instead of hiding behind our uniforms of power, or wearing our armour, we dropped the pretence and connected in the process as human beings?
If the client was naked too would their reaction be different?
Not a performance but a discussion
In 2007 we started dissuading clients from using a speculative creative pitch process and instead embrace a strategic workshop format for selecting their strategic agencies. The workshops are ideally all day events and there is one with each agency.
Interestingly, we noticed that agencies who were traditionally very good at presenting or pitching ideas were often not that good when it came to the strategic workshops.
It was not because of the quality of the people, or their skills and capabilities. What we noticed was that the agencies that put on a performance for the client in the workshops, like they would in a pitch, could not sustain the performance.
A pitch presentation will usually take only 2 – 3 hours maximum. But the workshop goes all day, up to 8 hours.
But like any performance, it has props and wardrobes and actors taking on roles and playing parts. Across eight hours that is tiring. But likewise in a pitch the advertisers play a role too. There is either the Easter Island statue that sits there silently and unmoved. Or there is the "Everyone's Friend" who is busy trying to make the agency like them. Or there is the "Critic" who is offering an opinion on the agency's every utterance.
But in the workshop the advertisers participate in the process just as they would if they were working with the agency. It is like a test drive. Where people get to hopefully be themselves.
If you are not yourself, who are you?
How often I have spoken with advertisers who have gone through a traditional pitch process only to find that the agency they thought they were choosing was not what they thought. This is because they have bought the performance and never really got to see the agency as they really were.
The pitch team either dazzled them, or the agency had outsourced the creative work they loved to a freelancer for the pitch, or the senior management team in the pitch disappeared on appointment.
Now I am not suggesting we literally undertake agency search and selection processes naked. I am not saying we need to nude up to improve the process. But I do think there is an opportunity for agencies and advertisers to be able to participate in a selection process where being you is enough.
Rather then the artifice of the performance, it is about a meeting of two groups of individuals working through how well they work together. If it takes getting nude to achieve it so be it. But having seen hundreds of pitches, the workshop approach gets very close to achieving it. Much like I experienced on the beach for Sydney Skinny.
You can register to participate in Sydney Skinny February 28, 2016 here.
To find our how TrinityP3 Marketing Management Consultants can help you further with this, click here.
Want more articles like this? Subscribe to our newsletter: