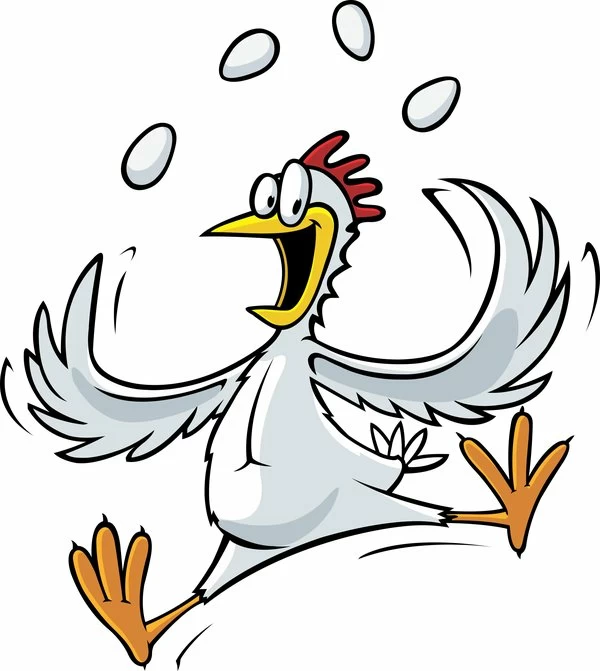 Bill Merrick has more than 20 years experience in international business, gained in marketing, advertising and PR – from packaged goods to infrastructure. He is now, from London, partnering with Darren Woolley to launch TrinityP3 UK – to bring all of their combined experience and insight to clients in Europe.
Sometimes, using a story can help put things into context; here's one for this idea.
A chicken and an egg meet in a dimly lit bar in New York. After a few drinks, it's clear that they're heading for romance. They get a room and feathers fly.
Later, in the warm afterglow of the street lights and the hotel neon blinking gently into the room, the chicken lights two cigarettes, hands one to the egg and says, "Well, I guess that settles that."
My apologies, but the debate in the industry over which comes first, the media plan or the creative – is an almost certain way to fall fowl (pardon the pun) of good practice. But it does seem to me that more and more people are asking this (especially with all the new shiny toys and technology)– and it's a great way of sorting the pros from the cons (The professionals or the people trying to con their way through).
In the way that the opening story has a beginning middle and end, but no defined resolution, the real question is what really comes first?
The answer is – a lot of hard work.
There are a few clear things to work out: what do you want to say – and to whom do you want to say it? What do you want to have happen from this strategy – the objective measurements for success? And finally, what resources do you have to get the message out?
In other words, a plan based upon the objectives of the business, a strategy based upon the resources you have available and a clear view of the results. All built around a very clear view of who do you want to talk to – and what you want them to do as a result?
Now if you take as given that you know your resources, which will of course have been built on a zero based budget that ties everything back to what you want to achieve – you will have a very clear picture of your parameters.
So on to Marshall McLuhan and his famous quote, "The medium is the message".
For those who know the medium (Marshall McLuhan) and the message comes in – would know that one of the main assertions of his idea was this:
It is experience, rather than understanding, that influences behaviour.
In essence, we process messages through the experience that we get from seeing, hearing, understanding and feeling them at the same time.
Which seems like the approach to a happy ending for our question.
But before we get there, we should look at bad practice and feel shame that this still happens.  
Sadly, a great many marketers these days decide which comes first before they've thought this through – and brief their agencies on the medium, a generalised intent – and the exacting science of the "let's not worry about money at this stage" approach.
As we all know, marketing departments are awash with the joyous cries of some and maybe all of these on different days:
"Let's see what happens on Instagram".
"We haven't tried Facebook yet".
" We can't afford television".
"Nobody reads newspapers anymore".
"Humour doesn't work in our category".
"Why don't we use somebody famous".
"Why don't we use ordinary people?".
"I heard on the radio this morning that no-one listens anymore".
"Let's get the agency to do something viral".
"Can you copy the music from Taylor Swift's  latest hit?".
As we all know, these are tremendous insights from product, brand and marketing managers based upon sometimes months of experience.
So what we're really talking about here is how do you as a marketer brief your agencies on a project or campaign so that you get a defined result.  
Like grown ups is the answer.
Talk to them all at the same time – set them the task and let them work it out. Tell them the outcomes you want, the budget you have, the marketing strategy that it must fit – and let them collaborate, cajole, cooperate, and excel – and give them the time – and your time, to do it properly.
When treated as adults, they'll tend to behave like them and will probably astonish with insights, expertise and solutions that you may not have. (Although I'm sure they'll let you join in if you play nicely).
You'll also find that they'll want to do it all the time. Sometimes some of them will discover they don't need to play today and won't even be sad.
Better outcomes, less wastage of all resources, more targeted, more effective messages from a lot more real work upfront. Learning that a lot more effort up front gets a lot more satisfaction at the end – is hard.  
So there we are, the answer is simple – which comes first? Neither the creative nor the media plan; it's the taking the time to set the stage, get everyone in the mood, wanting the same thing and sharing the experience.
Now that's what makes a really happy ending.
At TrinityP3, we can help you find the right partners, set the right objectives, know how much you'll need to put in and what will come out.
TrinityP3's Marketing Planning Process Review service is aimed at driving operational efficiency to complex marketing programs, clearing space for better planning and ultimately, better strategic outputs.
Why do you need this service? Learn more here
Want more articles like this? Subscribe to our newsletter: