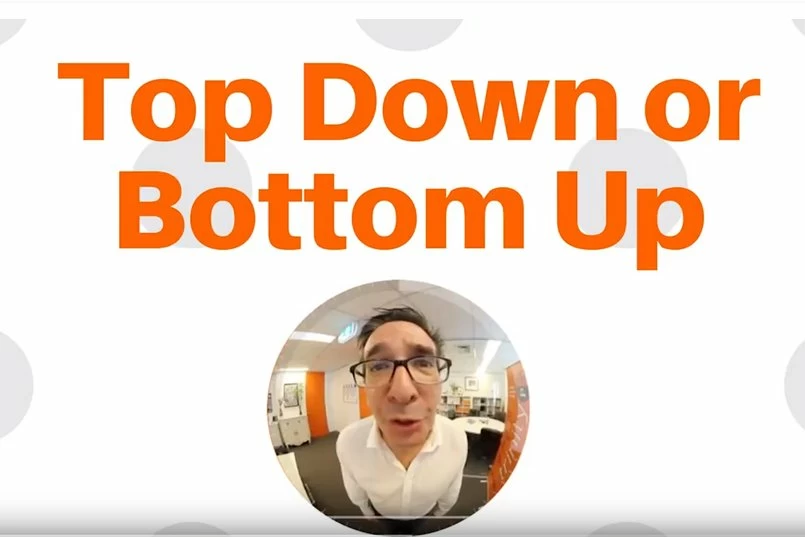 This post is by Darren Woolley, Founder of TrinityP3. With his background as analytical scientist and creative problem solver, Darren brings unique insights and learnings to the marketing process. He is considered a global thought leader on agency remuneration, search and selection and relationship optimisation.
This is the next in a series of one-minute videos that address one of the many complex challenges facing marketing, media and advertising today. The Golden Minute series is an attempt to prove Albert Einstein right when he said "The definition of genius is taking the complex and making it simple".
But he also said "Everything should be made as simple as possible, but not simpler". So we will leave it for you to judge. Please let us know here if there is a topic you would like us to cover in a Golden Minute.
How do you calculate your marketing budget? Advertising budget? Promotional budget? Is it top down where you start with a number and work out how to spend it? Or bottom up like ZBB where you start at the bottom and build it up based on projected returns.
Traditionally the marketing budget technique was typically top down. You can always tell a top down budgeting process because the technique was basically taking last year's budget and deciding out if you were going to get a ten percent increase or something less.
But since the 2007 Financial Crisis and Global Recession a decade ago this approach is more often than not take last year's budget and work out how much it was going to be cut by. Ten percent or more? Accounting for inflation this meant marketing budgets were getting reduced in real terms. This reduction was usually incremental each budget period.
But then there were also major cuts to marketing budget, often during the year, which decimated the marketing plan. Twenty, thirty or forty percent and more were cut from the budget and sent straight to the bottom line to improve the financial position.
While Zero Based Budgeting has been around since the 1970s, in the past few years it has made a resurgence with CPG companies. ZBB is a bottom up budgeting approach meaning that the budget is set against the tasks to be done and in the case of ZBB the expected return on investment.
But having observed the approach some management consultants use in implementing ZBB you could be misled into thinking it is simply a way to reduce marketing budgets by the same big margins we have seen in the top down approach. Rather than being based on return on marketing investment (ROMI) the approach appears to be against some very flawed 'industry' benchmarks.
I mean it makes sense that an organisation would only engage a major management consulting firm if there is either a guaranteed reduction in cost (savings) or a guaranteed increase in revenue. Considering it is easier to guarantee savings than revenue growth it would be logical that most consulting firms would sell a ZBB implementation based on savings.
We were engaged by a marketing team because they were struggling with a ZBB implementation being managed by one of the major management consulting firms. Rather then asking questions around performance and ROMI the consultants were referring to a number of 'industry' ratios or benchmarks for things like working to non working ratios on total media to production cost,
It didn't make sense because they were including owned media costs in their benchmark analysis when clearly there is no paid media expense in owned media. In fact most of what they were doing was simply trying to make the marketing budget fit some sort of budgeting template that had little or no relevance to the strategic or business needs of the brand.
When they did consider performance metrics, the only ones the management consultants considered were the immediate sales performance metrics effectively positioning marketing as a support function to sales. There was no consideration of the medium and longer term investment in brand to deliver purchase consideration in the medium to long term until we raised it with them.
The bottom line is that the budgeting approach you use can position the expenditure as a cost or an investment. The point being that whichever approach you use it needs to be justified against the return on that investment, otherwise it is simply a business cost.
Golden Minute Script
How do you set your marketing budget?
Do you start with a budget perhaps based on last years budget?
Then adjust it up or down? Then work out what you can afford to do?
That is top down budgeting.
Or do you start with zero budget then decide what you need to deliver your strategy?
And work out the cost to build up your budget?
This is bottom up budgeting.
Also known as Zero Based Budgeting or ZBB
The budget is linked to the return on that investment.
Which one is best? Both have their uses.
But one is a cost based approach. The other is an investment approach.
So the question is what do you want to be? It's your choice.
Interested in finding out if your marketing budget and budgeting process, and relevant KPIs and performance metrics, are working? Then find out more about how we can help you here.
Want more articles like this? Subscribe to our newsletter: