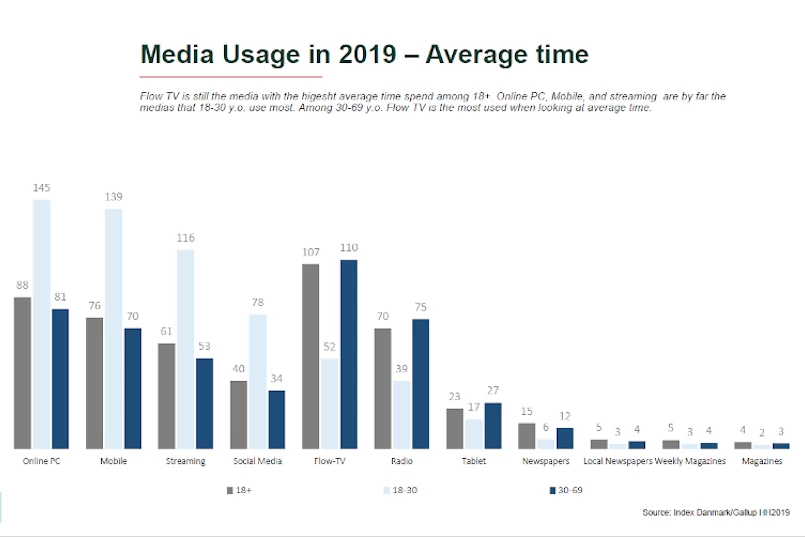 This post is by Claus Schiko, a media professional with over 20 years of experience within the field of Media, Advertising, Sales, Procurement and Digital DTC and works for JDE coffee in the Nordics
TV is dead, print is dead, radio is dead and with the Coronavirus cinema is also dead, right?
Well, that is not strictly true.  TV is still a huge driver of reach for a person aged 18 years or older (see below illustration). Print, radio and indeed cinema all can have a role to play. You see, it does not all have to be last click mania and drive all our beloved customers to the webshop because that is how everybody shops now. And yes people spend a lot of time on social media as well.
Of course, there is also a place for the digital native person that ONLY sees advertising on the world wide web, however, they are few and far between. So why would you ONLY try and reach them there? They do spend time out in the real world too, so other media channels can be used. OOH, and cinema are good examples of this.
Over time various media forms have also developed their offerings, and we should look at how that can influence a consumer.
The 5 steps to get your media mix right in 2020
Define your audience as wide as possible purely because most people would actually be in your target group. Of course, not everybody can right now afford the huge Tesla or BMW, however, they may be able to one day. If you are highly targeted just be aware that you may be: a) advertising to people that already know your brand and are therefore more likely to buy anyway, and b) now entering a small pool, and pure supply dictates the price that you pay.
Re-evaluate the strengths and weaknesses of each medium. There is NO need to be on every channel all the time, so establish when to use TV, and when to use other offline and online media. What can digital give you that print may not for example? This should be basic however I am seeing more and more brand managers that don't know the pure basics of each medium.
Know the ROI of each channel. Do yourself and your brand a huge favour and do a Mixed Marketing Modelling study where you feed all your first-party data in so that you can establish when and how to use TV / Print / Social / Display etc. This will not hold ALL the answers however it will add to your arguments when you are fighting for the exact budgets for each media channel.  It's just common sense
Keep your messaging consistent. Don't try all of a sudden to be something on social media that you are not. While you should also not JUST take a TVC and convert it to an online Video ad (because of formats etc), you should have the same look and feel about it so each media channel conveys the same brand story. The mix here is also important so that your marketing dollars can go further.
Be visible across the full year, but not on every channel. You don't have to. Build your base (your tent pole strategy so to speak). TV can be your base, but it does not have to be. However, do take advantage (if your product line allows you) of the seasonality on TV and "plug" the gaps with other non-seasonal media channels such as online video or print for that matter. And yes, print still has a role to play in a lot of countries.
Now the last point I will make here, is the most vital one. In order to get your media mix right, you must have full transparency of the media supply chain. That means that your media agency has to be paid fairly for what they do, and they have to be very transparent about any rebates, agency discounts and other goods they get in return from each media channel.
This will be a lot easier if you pay your media agency fairly.  Sure you can always get your goods cheaper, however if you are seeing your agency as a "cheap" supplier then the chances are they will give you cheap services or even try to find other ways to make money. Nothing new about that, its just business… Honestly…
Just look at the findings of the ANA report from 2016 and see if you truly think that the industry and your own brands have moved on?
A report from 2018 by IDComms showed that if anything, trust has declined.
That is why we need to see some uplift in how we spend our money, but we also still need a lot more transparency around the digital supply chain. We have come some way, however there is still a long way to go.
So be wise with your media spend in 2020 and into 2021.
Media continues to be the single largest budget item for most advertisers. But media has changed significantly. Find out about our media solutions here
Want more articles like this? Subscribe to our newsletter: