To see the link to download this white paper please complete and submit the form below.
Pitching to win in 2020 – seeking and securing investment for start-ups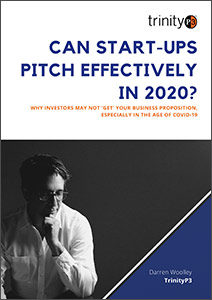 This new white paper reveals the best ways to avoid all-too common pitfalls associated with seeking out venture capital investment for start-ups.
In Can Start Ups Pitch Effectively in 2020?, industry commentator and Founder, Darren Woolley, offers valuable advice for those seeking investment, including finding the right audience, being knowledgeable enough so that any questions can be properly answered, the different factors affecting potential investors' decision-making, the best ways to pitch over different media, and how best to prepare for pitches.
"While Australia doesn't lack entrepreneurial inspiration, our entrepreneurs need better advice on how to turn their company proposition into an investment opportunity," Darren Woolley explains.
The document was released by Woolley's global marketing consultancy, TrinityP3, as a way to help combat 'assistance fatigue', and was written as a way to instruct aspiring Founders how to create winning 'pitch decks' and demonstrable data, in a way potential investors will care about.
"The perfect pitch is the sum of many parts," Woolley says. "Only through careful preparation, adapting quickly to unexpected circumstances … and your ability to answer the big questions investors will ask, will you secure the investment you are seeking."
The document breaks down the pitching process into the key components, and ensures that those seeking investment know what critical questions they should be asking themselves.
"You need to be able to answer the following questions," it says. "What is it that makes you different from your competitors? How does your company make money? What will investors' ROI be?"
Most entrepreneurs tend to focus on pitching their model or business in microscopic detail, as they believe this is what investors want to hear, when really, all would-be investors really want to know is 'What's in this for me?'
Other key considerations include the need for those pitching to be well prepared, to effectively manage their time when pitching, and 'benefits vs specifics'. Don't dwell too much on the finer details; rather, focus on the bigger picture, being the benefits to potential investors.
The paper also provides analysis of how Facebook, Uber and Airbnb were pitched – including links to the companies' original pitch decks! The rest is history – all three have gone on to become the business juggernauts we know them to be today.
"What I'm looking for are the elements in the deck that indicate a positive pitch and those that would detract from the pitch," Woolley said.
The white paper also addresses the impact COVID-19 has had on the world on start-ups and how they seek investors. With lockdowns still in place and a vast number of businesses operating remotely, Woolley thinks there are opportunities to be found in the space for entrepreneurs.
"Virtual pitching actually allows you reach more investors, in less time," he says.
"It all comes down to understanding how the human mind works in decision-making situations, and being diligent enough to do your homework, not just in and around your market, but on the investors themselves."
Simply fill in your details to download the White Papers.