There is a new 30-page report on Ethics In Procurement prepared by the Ethics Alliance, it is available for download here or if you would like to purchase a printed copy, contact us here. But what I would like to share with you is how through our membership of the Ethics Alliance this report came to fruition and what is in the report.
I have personally been a member of The Ethics Centre (Or the St James Ethics Centre as it was known then) for many years and when presented with the opportunity for TrinityP3 to be a foundation member of The Ethics Alliance I jumped at it. Having worked in Advertising, Media and Marketing for more than three decades I have found it ironic that many believe that ethics has no place in these fields. But in fact every day the people who work in this high profile industry will struggle with ethical decision and choices, albeit quietly and often alone.
The opportunity to join a group of business people in a forum that allowed the free exchange of ideas and opinions on the ethical challenges facing not just marketing, media and advertising, but all business (as I am running several global businesses too) was too good to miss out on.
The Ethics Alliance
From The Ethics Centre website it says "The Ethics Alliance is a community of organisations unified by the desire to lead, inspire and shape the future of how we do business. In today's business world, ethics is a doing word. But how does a progressive organisation move forward, ethically? In an increasingly complex business environment, sometimes the choices are obvious. More often however, a paradox must be confronted and hard decisions made.
This isn't a problem that companies need to solve on their own. The Ethics Alliance is a collaborative program dedicated to designing a future where the unique character of individual businesses can develop and their people thrive. Members access a regular calendar of stimulating talks, webinars and networking events, round-table discussions and get exclusive access to the new Decision Making Tool – FieldKit.
The Alliance aims to set new benchmarks for ethical practice and offers the insight, inspiration and core tools needed to embed ethics in business. Join organisations and leaders committed to changing the future of how we do business"
I could not put it any better myself. So if you and your organisation want to join too you can do so here.
The Gatherings
The program for The Ethics Alliance is quite comprehensive, but one of my favourite events is the "Gatherings". This is a regular gathering of Ethics Alliance members in Sydney and Melbourne where under Chatham House Rules, members can raise and discuss ethical issues they are confronted with in their business, their industry and profession.
It was at one of these Gatherings that I raised an issue that we had been championing for many years and I felt the situation was getting worse rather than better. That is the issue of longer and longer payment terms, especially where much larger companies were imposing these on much smaller companies.
It always felt the equivalent of a corporate bullying practice, especially when these payment terms were not clearly articulated up front and only revealed once you had been put through an extensive and costly procurement process, which had happened to us on several occasions.
But what I was surprised to find is that many much larger companies represented in the Ethics Alliance also faced the same extended payment term demands from their clients. It led to a robust discussion not just on extended payment terms, but a wider discussion on the ethics of the buyer / supplier relationship and the role of procurement and management consultants in this process.
The issue was one that The Ethics Alliance took up and organised interviews across a range of business categories with the membership of The Ethics Alliance, plus a round table discussion with the members once the findings were collated, which led to the contribution of the ethical procurement framework by Shell Australia.
This output of this process is captured in the 30-page report on "Ethics in Procurement".
The Ethics In Procurement Report
The report is presented in three parts:
Part 01: Is ensuring a fair transaction which includes looking after your suppliers, addressing practical issues that need to be solved and highlighting the reasons you may have a problem.
Part 02: This is the practical procurement framework generously provided and shared by Shell Australia and takes you through the recommendations of the framework from before you qualify the supplier to awarding the contract and then after you sign the contract, looking after the relationship.
Part 03: Is the ethical framework following the fundamental values and principles that have emerged from The Ethics Alliance research and thinking on procurement practices including showing respect for people and relationships, having integrity, do no harm or operating without maleficence and being responsible for your actions and owning the outcomes.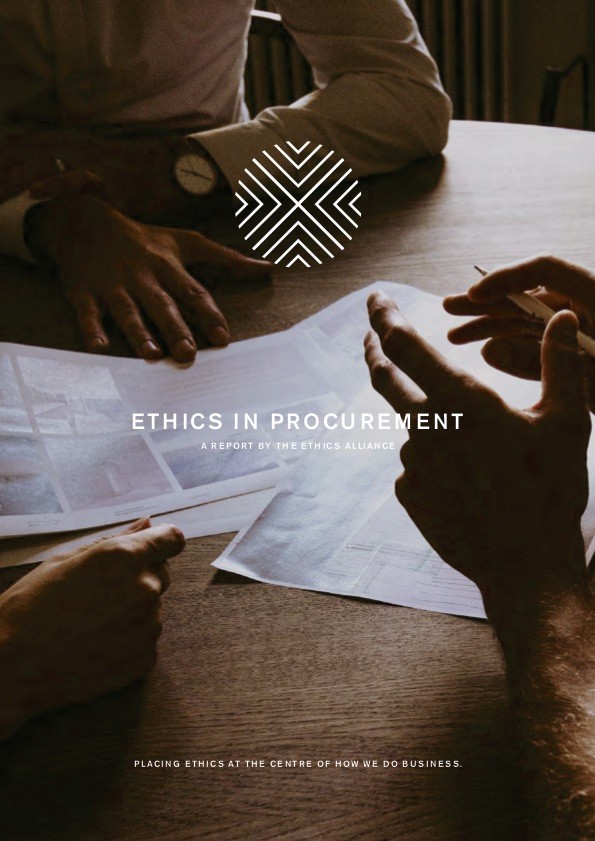 Next steps?
It is a conversation worth having. I would encourage everyone to download and share this report with those working in business and procurement, but particularly from my perspective in marketing and procurement. This becomes a terrific framework from which we can discuss the evolving role of procurement and the ethics of business. From the boardroom to the executive offices to the marketing team and the agencies and suppliers this is a way to structure the conversation around the ethical framework.
Be it within industry advertising organisations such as the AANA, ISBA, ANA or the WFA.
Or between marketers and advertisers, their procurement teams and their agencies.
Or with the Procurement Organisations such as CIPS, Procurious and Procurement Leaders.
Thank you to all involved
There is a list of acknowledgements on page 29 of the report, but I would personally like to thank Cris Parker of The Ethics Centre and David Moffat, Executive Chairman of Ventia Infrastructure for undertaking this project and the interviews of the Ethics Alliance members including Shell Australia (who also provided the practical procurement framework), Macquarie Bank, The Reserve Bank of Australia, Allianz, AIA Australia and the Insurance Australia Group (AIG) along with The Business Council of Australia. It is a rewarding experience for us to be in such great company.
I would encourage any agency, advertiser and media owner organisation to consider joining The Ethics Alliance. It would be great to hear your voices in the discussion on the ethics of business along with those companies that are already members here.
For more than 15 years we have been helping marketers and marketing procurement teams address and solve challenges, so the question is how can we assist you? Find out more here