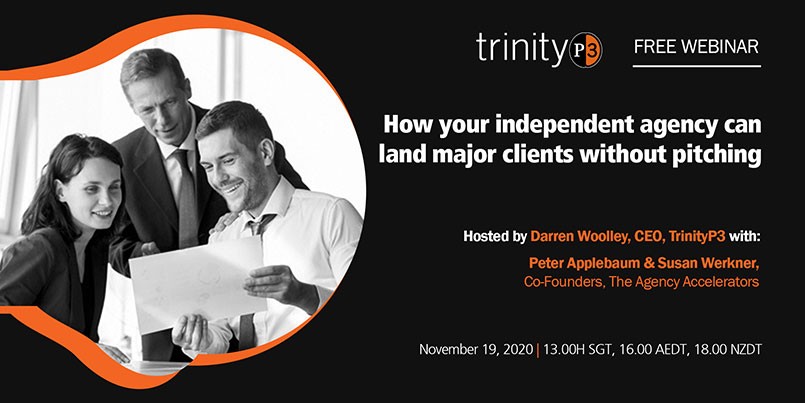 Topic: How your independent agency can land major clients without pitching
Date: Thursday, November 19
Time: 16.00 AEDT
Presenters: Hosted by Darren Woolley, Global CEO, TrinityP3 with
Peter Applebaum & Susan Werkner, Co-Founders, The Agency Accelerators
Description: There is a definite trend towards advertisers actively considering independent agencies. But can independents complete with the major agencies to land those major corporate clients? And is the pitch process the best way to win these clients? Or does it work against the smaller indie agencies?
During the webinar we discuss:
What is driving the trend to independents?
Is the pitch process the best way to win major clients?
How independents go about winning new business
How The Agency Accelerators can help this process?
Anyone who owns or manages an independent marketing, media, advertising or digital agency and interested in winning more business from corporate clients will get value from viewing this webinar.
Video Recording:
Relevant Blog Posts:
Is procurement standing in the way of independent agencies winning larger clients?
Global or local? Network or Independent? Choosing an advertising agency relationship
Managing Marketing: Managing An Independent Media Agency
Managing Marketing: The State Of Media For Independent Agencies
Should your agency be listed in TrinityP3's Agency Register?
John Oldfield on Independent Agencies Part 1
& Part 11
Exclusive Offer:
Until the close of business on Thursday, December 3, 2020, we're offering a FREE, no obligation 30-minute Strategy Session for all registrants of this webinar.
Plus, until then, The Agency Accelerator Program™ includes lifetime access and support for a one-off investment, which normally costs $9,800 + GST, will be for Trinity P3 agencies only $7,800 + GST
You can sign up for either of these offers here
Or by email here (success@theagencyaccelerators.com)
Click here to view other webinars.