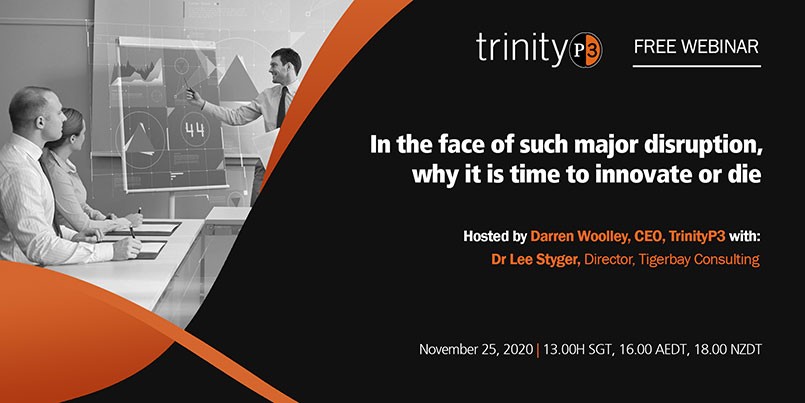 Topic: In the face of such major disruption, why it is time to innovate or die
Date: Wednesday, November 25
Time: 16.00 AEDT
Presenters: Hosted by Darren Woolley, Global CEO, TrinityP3 with
Dr Lee Styger, Director, Tigerbay Consulting
Description: During this pandemic, we have seen businesses falter and others thrive. Words and phrases such as unprecedented, new normal and pivoting have taken a new meaning. Certainly, we have seen years of technology transformation happen in months. But this is the ideal time to innovate, not just to survive, but to thrive into the future. But how do you embrace innovation in your organisation?
During the webinar we discuss:
What is the business impact of this type of global disruption?
Why this is an opportunity for increased innovation
What are the proven steps to produce innovation?
How Tigerbay Consulting help this process
Anyone who is responsible for the growth and the financial performance of an organisation and those interested in the role of innovation in delivering growth will get value from viewing this webinar.
Video Recording:
Relevant Blog Posts:
The essential role of business innovation beyond being a management fad
Being pessimistically optimistic about business post coronavirus
Time to take action or face certain death – the choice is yours
Are We Mixing Up Creativity With Innovation?
How to employ story techniques to cultivate innovation
Click here to view other webinars.