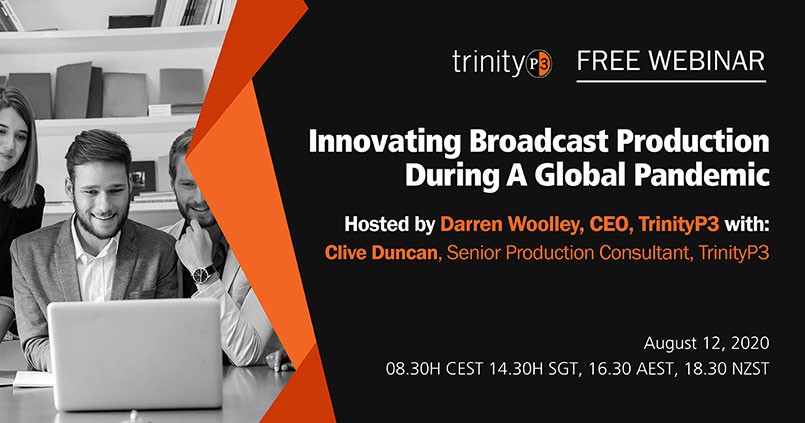 Topic: Innovating broadcast production during a global pandemic
Date: Wednesday August 12
Time: 16.30 – 17.30H AEST
Presenters: Hosted by Darren Woolley, Global CEO, TrinityP3 with
Clive Duncan, Senior Production Consultant, TrinityP3
Description: Border closures. Social distancing. Remote working. These have naturally had a huge impact on advertising production. But in fact, necessity is the mother of invention. During this time there has been significant innovation in production. Driven by technology and embraced to achieve the desired outcome.
During the webinar we discuss:
The limitations of production during the pandemic
The impact and opportunities at each stage of the production process
Examples of recent productions and their techniques
Provide practical innovations to overcome the limitations
We will be reviewing and discussing some of the innovations and opportunities for producing broadcast advertising during the pandemic. Anyone interested in finding ways of delivering production solutions during this testing time will get value from this webinar.
Video Recording:
Relevant Blog Posts:
How to attend the shoot or edit without leaving the office
Addressing the 'alternative facts' of advertising production
Is your TV production process moving forward or stuck in the old ways?
Top 10 reasons advertising production is the new cost focus for marketers
Getting Value From Your TV, Film And Video Productions
Location choices and the impact on cost in television production – Three case studies
Spielberg or Ridley Scott, who is the right director for your TVC?
Click here to view other webinars.