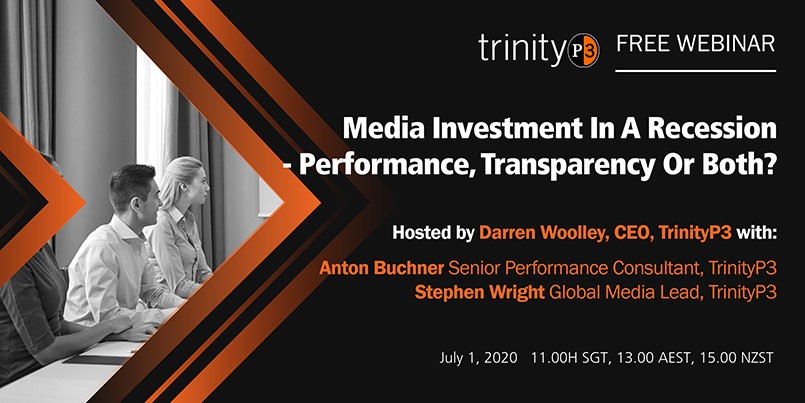 Topic: Media Investment in a Recession – Performance, Transparency or Both?
Date: Wednesday July 1
Time: 13.00 – 14.00H AEST
Presenters: Hosted by Darren Woolley, Global CEO, TrinityP3 with
Anton Buchner, Senior Performance Consultant, TrinityP3 and
Stephen Wright, Global Media Lead, TrinityP3
Description: Since the release of the ANA / K2 Intelligence Report into media agencies in 2015, the industry (and the trade media) has been obsessed with achieving media transparency. But in the face of the coming recession following the COVID-19 pandemic, will marketers need to change the focus away from transparency to achieve the media performance required or is media transparency more important for making media investments go further? Or perhaps marketers will and can achieve both?
During the webinar we discuss:
Has media transparency always been an issue?
What does media transparency mean today?
Can media transparency be solved taking the media planning and buying in-house?
Why has digital media failed on the promise to be more measurable and performance-focused?
Should marketers focus on last-click attribution models?
Why do many companies struggle with measuring performance? And more…
Video Recording:
Relevant Blog Posts:
Performance
Media performance management – Become an Instant Expert
Three ways to pay for programmatic media but only one that delivers value
The natural fear of driving blind with your advertising media budget
Transparency
Creating transparency and trust in media – Part 1 "The Agency"
Creating transparency and trust in media – Part 2 "The Advertiser"
Is Media Transparency desirable only until it costs advertisers money?
Click here to view other webinars.