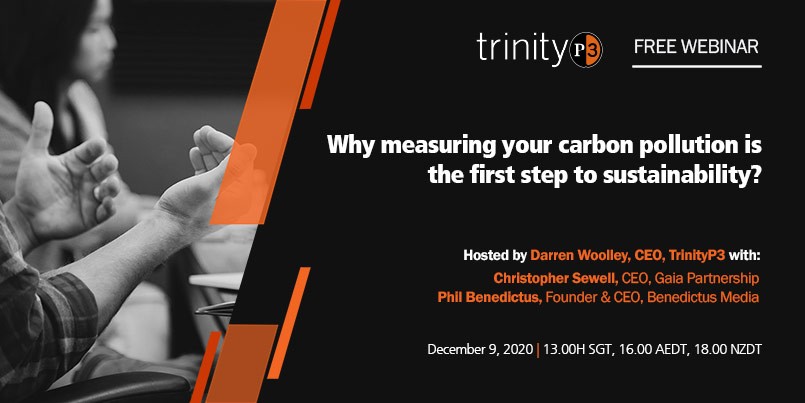 Topic: Why measuring your carbon pollution is the first step to sustainability?
Date: Wednesday December 9
Time: 16.00 AEDT
Presenters: Hosted by Darren Woolley, Global CEO, TrinityP3 with
Christopher Sewell, CEO, Gaia Partnership
Phil Benedictus, Founder & CEO, Benedictus Media (Winner of the inaugural Comms Declare Climate Comms Champion 2020)
Description: The climate crisis is real. Consumers are demanding brands are more accountable for their carbon output. But what can marketers and their agencies do? The starting point is to understand where your carbon pollution is occurring before you can assess and make plans to reduce this.
During the webinar we discuss:
The various sources of carbon pollution including scope 1, 2 and 3
How to determine your carbon footprint
Why carbon reduction can reduce waste and save money
How The Gaia Partnership can help in this process
Anyone who is concerned about the climate crisis and interested in discovering practical ways to reduce your organisation's carbon footprint will get value from viewing this webinar.
Video Recording:
Relevant Blog Posts:
The environmental impacts of in-store advertising
Why the advertising industry needs educating in how to calculate carbon pollution contribution
Something about Facebook all marketers who care about the environment need to know
Sustainability and the hidden cost of your media inefficiency
The secret to transitioning from print to digital media
Click here to view other webinars.