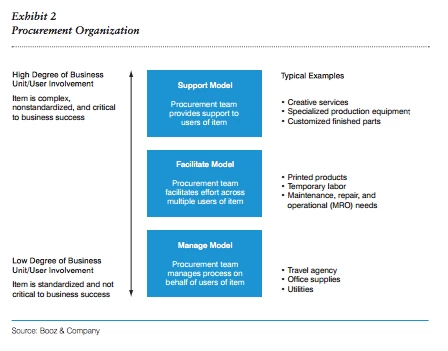 This is a guest post by Tom Denford, Founding Partner of ID Comms – a member of the Marketing FIRST Forum, the global consulting collective co-founded by TrinityP3
I came across this great graphic today in a little book I was reading by Booz & Co about new models of procurement organisations. The book on the whole did threaten to cure my insomnia, but one highlight was this, a suggestion that "creative services" sits within procurement organisations as something which they support rather than manage.
What this would mean in practice would be that procurement would support another part of the company, in this case perhaps a marketing or a media director and provide them with the support on elements of media management related to costs and value delivery. I can see how this makes sense and I like this construct.
My initial observations beyond this of course, was that we are seeing a trend, especially in media management of procurement taking more of a facilitator role, in many cases taking over the primary management of media investment.
In recent straw polls we've conducted when meeting with global leaders of media agencies, we have found that on average around half of their international clients have a procurement leader in the primary media management role rather than a media specialist. This number is increasing in our opinion.

This is happening in part because of the increasing skills sets of procurement leaders (becoming more adept at the intricacies of media and the complexity of defining and delivering media value) and partly because there are frankly far fewer decent media directors out there for them to support, so they naturally have taken over the management themselves.
Underlying this shift of this of course is an economic climate in which procurement leaders are being heavily empowered to identify savings from operations, especially in 3rd party variable costs (like marketing spend), and sometimes this impacts hard upon the strategic ambitions of marketing and media leaders.
At ID Comms we sit right in the middle of this debate and it is endlessly fascinating. We believe that procurement leaders are playing a very important and helpful role in helping marketing services become more accountable and transparent for their contribution to corporate productivity and success. The impact of this has naturally been somewhat uncomfortable for some agencies. Agency's experiences of working with companies who put procurement in charge of media management (i.e. where procurement has a Manage Model) has generally been frustrating, chiefly because they are not yet geared to deliver properly against procurement KPIs. My guess is that most media agencies would prefer procurement's role to be more a support or facilitation function rather than a management.
When we get engaged in these challenges, our view is to add value to the working relationship. We perhaps temper any frustrations for both sides; providing high quality media skill to support procurement (allowing them in turn to be a powerful support function to marketing themselves) and at the same time being able to navigate the complexity of agency process and ensure that our client company is getting the best possible value from their agency partners and suppliers. This involves keeping that client a primary focus for the agency to ensure they get more than their fair share of value delivery, strong pricing, access to the best talent and innovations in media.
How will this play out? 
Our advice is that one of two scenarios will come to pass as a broader trend in media management. Either procurement leaders will want to move their participation in media management back to a supporting role and empower good quality marketers and media directors to create value for the company in the complex digital media world. Or, they will cement their positions as being the best corporate discipline to manage the company's significant investments in media. Often, a company's media spend is one of their single largest external investments. Our view is that media requires far more organised governance than it often receives in companies.
Whoever eventually has control of media management and budget allocations, a proper media governance process, with some strategic ambitions alongside some measurable KPIs is critical to future proof the business and create a competitive advantage in media, which after all, remains a hugely powerful lever for growth for most international businesses.
What are your views on whether procurement currently supports or manages creative services? Leave a comment here.
Want more articles like this? Subscribe to our newsletter: