This year at the Cannes Lions Festival of Creativity, Bec Brideson launched her not-for-profit procurement initiative, Women With Agency when she spoke at the Badass Women panels, a new session representing the world's most badass female business leaders and creatives.
Women With Agency is a concept Bec shared back in March this year with coverage in the local trade media for this procurement initiative. 'Women with Agency' goes beyond diversity in employment and management within agencies to encouraging advertisers to consider agencies that are founded and owned by women.
For almost two decades of managing agency search and selection projects for some of Australia's largest and smallest advertisers we have always focused on creating a level playing field for the agencies involved. Even as recently as April this year we posted another article highlighting the ways the common procurement practice commoditises advertising agencies in the pitch process.
Therefore I was personally intrigued by Bec's pitch to me back in March this year when she first raised the issue of leveling the playing field for women founded agencies. To be honest while we have had increased requests for more diverse gender representation in agency roles, to date we had never had a request for considering agencies who are founded or owned by women.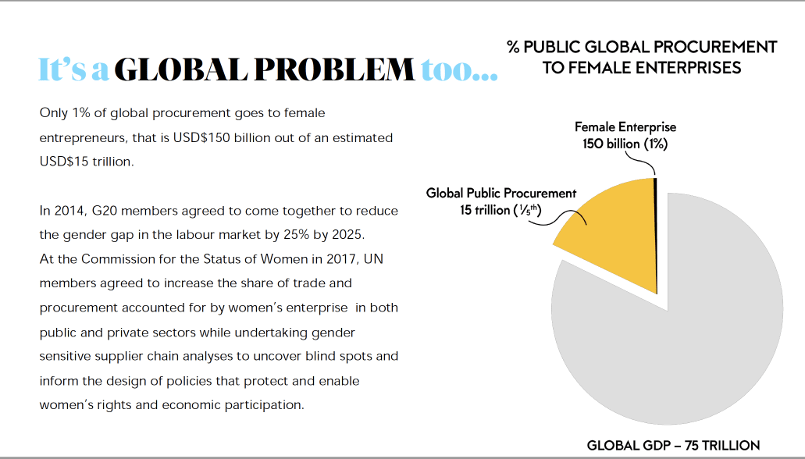 Why owned is more important
As it says on the Women With Agency website "When only 1% of global procurement contracts go to female-founded businesses – these paltry numbers and the glacial rate of change for women is incredibly disappointing".
This is a surprising statistic, especially in a period of increased female entrepreneurship. But as Bec's research has found, this has meant that many female founded businesses struggle to survive because of the lack of opportunity.
While increasing the representation of gender and ethnic diversity in the advertising industry is being encouraged through the actions of organisations such as the 3% Movement and spokespeople such as Cindy Gallop, Bec Brideson and others, it would be more effective to support agency businesses that represented diversity from their foundations, rather than just their employment profiles.
While not distracting from these efforts, it makes sense that if there were more opportunities for female founded and owned businesses than the benefits of diversity would flow through the agency and their clients.
But the question we faced was how do we go about supporting this initiative in a meaningful way?
The challenge of verification
At the time and subsequent to the discussion on this initiative I was concerned on how we could verify the agencies owned by women. After all if the agency is owned by a publicly listed entity such as one of the major holding companies including WPP, Omnicom, Publicis, Havas, Dentsu, IPG etc, then the company is owned by the shareholders of which there could be many thousands and therefore it won't really deliver the benefit or achieve the desired outcome.
Likewise if the agency is a private company then the directorships could be costly and time consuming to determine through company register searches, exacerbated by often complex corporate structures such as discretionary trusts and the like.
So how could we validate the ownership of the corporate entity to ensure it was either founded by women, or owned by women? The answer is in the very movement Bec Brideson has started, the Women With Agency website. By validating the ownership through the registration at womenwithagency.com we are able to validate within the global community of women owned agencies.
How we are supporting Women With Agency
TrinityP3 developed an online database for agencies to register their details on-line called the TrinityP3 Agency Register.
This Agency Register allows agencies to submit and update their details so we can more readily search and place these agencies into consideration when an advertiser is looking for a new agency.
The TrinityP3 Agency Register is free for the agency to use and totally confidential, with the information supplied only used by TrinityP3 to select agencies to recommend to the advertiser to meet their specific search brief requirements.
To date there are more than 3,000 agencies of all types registered on the database for APAC alone. But with the expansion of TrinityP3 into the UK, EMEA and North America there are increased opportunities in these markets too.
So we are undertaking two things to support the Women With Agency initiative:
We have modified our Market Search Brief to specifically ask if the advertiser wants to consider women owned agencies in the search. This will prompt those who are committed to supporting diversity and prompt a discussion with those who have not considered the benefits of considering agencies owned and founded by women.
For those agencies that register with womenwithagency.com we recommend that they either create a profile on the TrinityP3 Agency Register (if they have not done so already) and include the hashtag #womenwithagency in the field for Agency Ownership under your Company.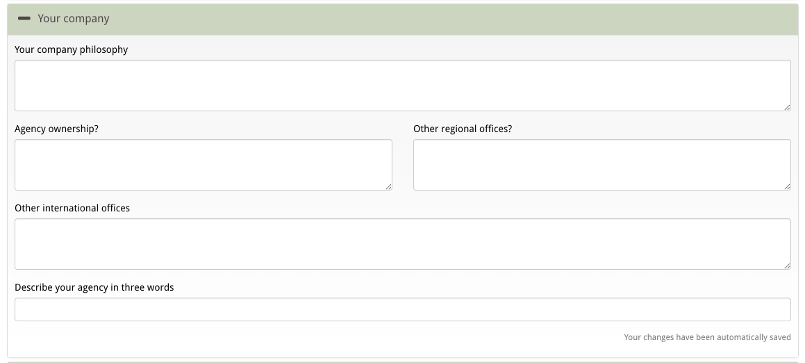 In this way when a advertiser indicates that women owned agencies are an important criteria for consideration we will be able to search and find those agencies and validate their ownership with the womenwithagency.com site to ensure there is no gender washing occurring.
What to do if you are a woman founded or owned agency
Using the criteria from the Women With Agency site, if you're a 100% women-owned business or if you're 50% founded and run by women with equal levels of power to their peers, then we encourage you to:
Make sure you register your agency with womenwithagency.com
 Register you agency with the TrinityP3 Agency Register and place the hashtag #womenwithagency in the Agency Ownership field.
In this way we can find you and help our clients who are looking for women owned and founded agencies to find you too.
What to do if you are an advertiser eager to support women owned agencies
If you're a government agency or corporate brand looking for more diverse, more inclusive and gender-fair agencies and marketing suppliers then you should also:
Make sure you register your interest and commitment with womenwithagency.com
Contact TrinityP3 so we can help you find the agencies to meet your specific needs.
In an interview with Bec Brideson in Marketing Magazine she said that "Women With Agency doesn't require a commitment by the client, marketer or CEO to hire the female-founded agency – but it does require a commitment to act accordingly (putting one female-founded agency on the pitch list) for every pitch you put out there. And to judge each pitch fairly".
We could not agree more. The success of a pitch is about finding the best-qualified agencies to meet the advertisers needs and to create and manage a process that allows the advertiser to judge the agencies fairly.
TrinityP3's comprehensive Search & Selection process provides extensive market knowledge, tightly defined process and detailed evaluation and assessment. Learn more here