At TrinityP3 we write about procurement and marketing a lot. The reason for this is procurement forms a critical part of the work we do with our clients, and more often than not we find ourselves working very closely with procurement throughout a project's lifecycle.
As a result, we see firsthand the challenges marketing face when dealing with procurement and importantly, we also experience the challenges procurement face when dealing with the needs of marketing.  Needless to say, over the past 15 years we have experienced firsthand the evolution of both marketing and procurement as business functions and watched as the relationship between the two has grown into a critical and reliant partnership.
During this time, we have also witnessed the times when marketing and procurement have worked extremely well together, and we have experienced times when it has fallen apart in spectacular fashion.
So, armed with a sense of procuriosity Darren and I popped along to the Big Ideas Summit Sydney 2018, a one-day conference aimed at procurement and supply chain management. Both of us were keen to hear directly from the sector the issues they were facing and, importantly, what they were planning to do about it. It was a packed schedule and coupled with the promise of hearing some big ideas, we strapped into our seats and went along for the ride.
Introducing the context for the day ,Tania Seary, founding chairperson of Procurious, The Faculty and The Source, advised us you only need one idea to take home to consider the day a success. Looking back over my notes after the conference to see if I had identified one idea for myself (I did), what struck me most day was this.
Whilst procurement and marketing might fight like siblings on a long car ride, the challenges facing procurement and supply chain are very similar to those faced by marketing. These are, the changing needs of the customer and disruption, industry innovation and the importance of stakeholder engagement.
The challenges facing procurement and supply chain today
1. The changing needs of the customer and disruption.
The changing customer and market disruption have been beating up marketing teams for quite a while. Over the past decade and a half, we have witnessed this across most, if not all, industries and have seen brands either emerge stronger or disappear altogether. We know from these experiences that dealing with evolving customers and disrupted industries does not have a one size fits all solution, but it does have some commonalities.
These are how you as a business are structured to tackle these challenges and where you feel the priorities lie when doing so. Both were tackled at the summit.
We know procurement love a process, seriously, who doesn't? And in her opening statements, Tania uttered the magic words (to me anyway) 'process is liberating' and yes, it is. However, this was followed up beautifully by Gus Balbotin, ex CTO of Lonely Planet who entertainingly warned the audience not to set the process in concrete.
Why? Quite simply, because concreting over your processes and bedding them down in structure will cause you (and your business) to be unable to go with consumer momentum and self-disrupt. As Gus eloquently put it, you can't be agile when every time you want to try something you need to rip up the concrete.
This was backed up eloquently by Telstra CPO Thomai Veginis who talked about the importance of process if you are also able to show empathy for what needs to be done. However, Thomai also stated that the best procurement people will have an idea in their head of what they want to get out of a deal right from the get-go.
But after listening to Gus, I had to ask the question, is this necessarily in line with what is needed? You see, you need to be able to address the customers needs first and do so in a way that delivers the best outcome for the customer and the business (in that order).
Key outtake: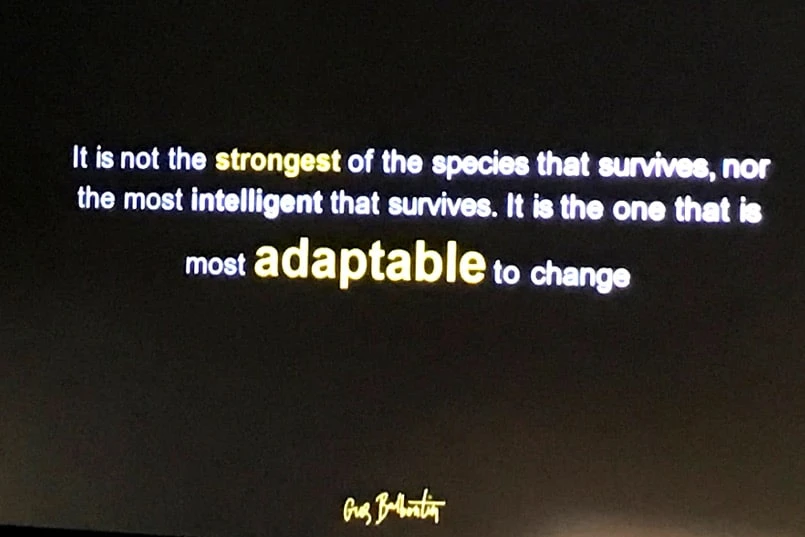 Gus put it best when he said, 'you need to fix the customer problem, not the business problem – focus too much on the business and you will cease to exist.'
From my perspective this means, take the time to understand what is driving your customers needs and the environment within which they are operating and keep an open mind. This approach will not only help achieve what is needed but it will also help build relationships and ultimately achieve the business goals.
2. Industry innovation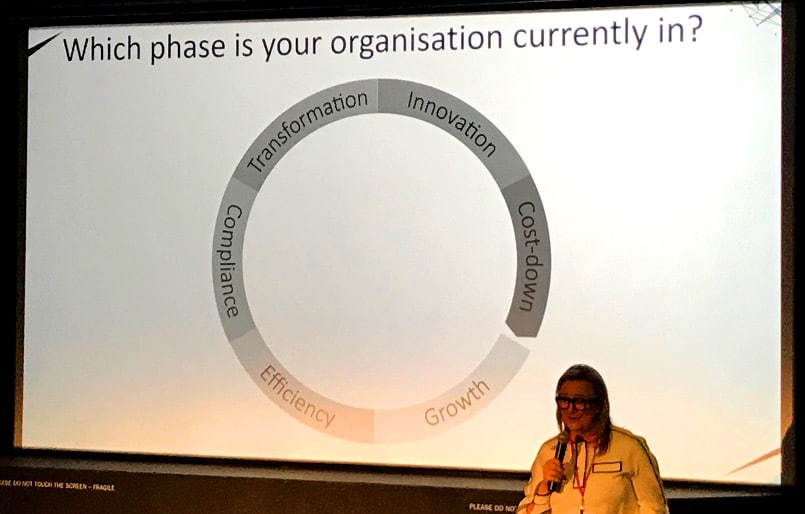 There are 6 phases of an organisation – Growth – Efficiency – Compliance – Transformation – Innovation – Cost-down. According to Tania Seary, status quo is not one of them; stand still and you will become obsolete. Or as Chairman of Robobai Julian Harris stated, borrowing from Edward Denning, 'you don't have to change, survival isn't mandatory.'
Several speakers talked to innovation across procurement, from its evolution in importance and function as a sector to the role of AI. It was clear from the content of these presentations that procurement is on the cusp of some major, if yet unknown, changes.
Industry heavyweight and CEO of the Institute of Supply Management Tom Derry opened with the startling statistic that across S&P 500 companies their external cost structure has increased from 50% in the '70s to 80% today, with the CPO managing 85% of it.
In a single statistic Tom demonstrated the critical importance of procurement across business and the importance of selecting the right business partners. In Tom's words, business partners are critical to the success of business as there is no success for the firm without success of the network. He went on to stress the increasing importance of sustainability in the supply chain and said what was one of my favourite lines of the conference, 'intelligent spending is so much more than best price.' Amen to that.
The role of AI was also discussed at length with both Tom and Julian highlighting the impact AI will have and is having on the sector. Process automation was a key discussion point with the prediction that AI is taking away, and will continue to do so, some of the more tactical procurement tasks, such as procure to pay, performance analysis and RPA.
This shift is allowing for a bigger focus on the strategic side of procurement, however it did come with a warning. You can't automate problem solving and whenever there is a problem with a supplier, you must sit down with them to talk about it. Which ties in beautifully with first challenge facing procurement – understanding customer needs and market disruption.
Key outtake: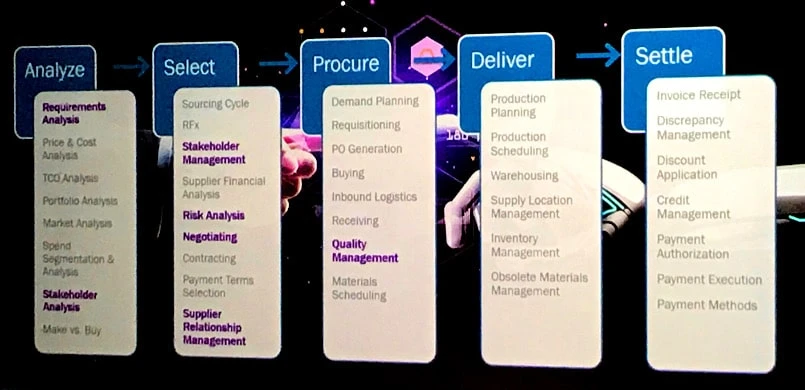 AI and innovation may simplify and speed up some of the source to settle supply chain and procurement process, allowing for real time and predictive analysis, but it mustn't remove the human factor. Developing and nurturing relationships with the right suppliers to deliver on customer and market needs will end up delivering more value to the business than selecting suppliers based on a pre-determined algorithm or machine learning.
Sounds like marketing 101 right? This leads us into the third challenge facing procurement and supply chain management.
3. Stakeholder engagement
One of the biggest challenges faced by marketers within a business is securing the right stakeholder buy in. I have seen stakeholder management derail and delay a few projects I have worked on with TrinityP3, and it has taken a lot of work with marketing to get everything back on track.
You can read my post about what makes good stakeholder management here
As with marketing, stakeholder buy-in is critical for procurement professionals and this challenge underpinned several speaker topics throughout the day. Tania put it succinctly when talking with Tom Derry, 'you are not a leader if you don't have followers', and to get the best followers you need to engage through the line with the right stakeholders.
Stakeholders take many forms and can be ranked in many ways from critical to good to keep informed, all of them play a role in ensuring the success of what you are trying to achieve.
From a procurement perspective it is clear from the summit that this means working openly and transparently with your stakeholders (internally and externally), sharing the processes you need to follow to fulfil your role and, importantly, knowing when the process needs to flex enough to be able to address the stakeholder needs properly.
This alone will build much stronger stakeholder buy in for what you need to achieve.
Key outtake:
As with marketing, the days of procurement being viewed as a 'support' function are gone. Both are critical functions of business that must be taken seriously by all stakeholders across the business, however the responsibility for this needs to fall back on procurement to ensure they are engaging with the right stakeholders, at the right time in a way that best suits them.
After an information packed day at the Big Ideas Summit, did I manage to take one idea home with me? I did. When talking about innovation and disruption Gus Balbotin articulated the importance of flexibility and small scale testing and iteration as the best approach to moving forward, simply by stating 'don't let the business case take longer than it takes to make the change.' This is my new mantra.
For more than 15 years TrinityP3 have been helping marketers and marketing procurement teams address and solve challenges, so the question is how can we assist you? Find out more here