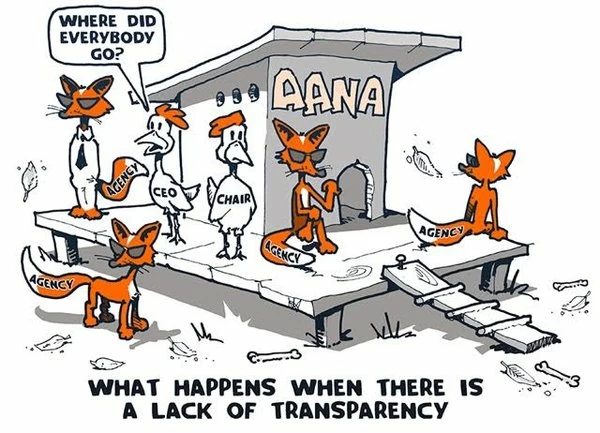 This post is by Nathan Hodges, TrinityP3's General Manager. Nathan applies his knowledge and creativity to the specific challenges of marketing management, with a particular focus on team dynamics and behavioural change.
Finally, after over six weeks of careful consideration and extensive internal discussion, Matt Tapper and Sunita Gloster of the AANA broke cover and were interviewed by AdNews last week on the issue of media agency transparency.
You can be forgiven for missing it though, since the headline for the interview – 'transparency isn't where it should be' – was an award-winning, no-kidding masterpiece of understatement.
But what a reassuring read it was.
At least, it was for those who were able to make it to the end. After all, it was a little long. And quite difficult to decipher at times.  
So, because I'm such a helpful sort, I thought I'd read between the lines of the published interview a little bit, and produce a slightly simplified version of the interview for those of us with shorter attention spans.
I only hope I've got it right. I can be notoriously unreliable at interpreting these things. Sometimes wilfully so.
Adnews:
How has the AANA gone about tackling media transparency in this market?
AANA:
Here at the AANA, let me tell you, we've been chatting to each other in the most confrontational and adversarial ways you can possibly imagine over red-hot industry issues at our regular series of gourmet four-course dinners for selected advertisers and agencies.
It's certainly been controversial! And gutsy! But obviously we can't tell you anything we said. Or write it down. Or even admit they happened. Which they didn't.
Adnews:
But how can the AANA have a proper conversation about the transparency of client/agency contracts with both sides sitting at the table with a vested interest?  
AANA:
Well, that's a bit like saying you can't let the fox into the chicken coop.
Adnews:
Exactly. You can't, can you?
AANA:
Well, I think the more important goal here is to reach a broad consensus between foxes and chickens about the overall future of the farmyard environment, going forward. We're not going to achieve that by taking sides, you know!
Adnews:
But in this case, aren't the interests of media agencies and clients like chalk and cheese?
AANA:
Well, sometimes the opportunity with chalks and cheeses is to find the chalkiest cheeses, and the cheesiest chalks, and combine them to produce a crumbly yet piquant view of value banks and media kickbacks – where everyone can find their own best practice, their own way to 'chalk around their cheese', if you like.
Adnews:
I don't understand.
AANA:
Let me put it another way. At the AANA we are thoughtful of everyone's views – be they old or young, rich or poor, media agency or advertiser. So we try to see ourselves as a kind of middle-aged, middle-class, adver-media-iser, if you like.
I can see you're still confused. Okay, then think of a pantomime horse – but with two heads. Now, the two heads are facing in opposite directions, yes, but they are still held together by a sticky, horse-based glue, as it were. We are that glue.
Adnews:
I see. Right. So what exactly are you going to do?
AANA:
We are urgently setting up a sub-committee to continue our constant proactive industry engagement with the fluid journey towards best practice over the last 85 years. And we will seek to strive ever further in an unstinting way to ensure that all interests in this vital issue are thought of in a thoughtful manner.
After all, some have said that oil and water don't mix, and yet here at the AANA.…(continued in Adnews for pages and pages)
***
At least, that's what I remember from when I read it. As I said, I'm not always the best person to ask about these things. I can be a little cynical at times.
Read Darren Woolley's post on why the AANA needs to review its membership here.
TrinityP3's Media Transparency, Performance and Value Assessment takes a holistic look at the operation of your media agency, assessing against best practice at every stage of the journey. It aims to give you the tools to improve the output of your media agency.
Why do you need this service? Click here to learn more
Want more articles like this? Subscribe to our newsletter: