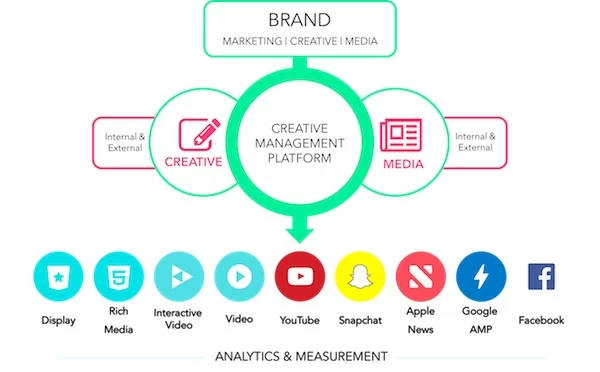 This post is by Peter Bray, Director, Business Development ANZ for Celtra and co-founder of Puzzle Creative Technology Solutions. He has been riding the ad-tech wave for the past 7 years and feels it is time for Marketing organisations to focus on delivering better and more relevant advertising experiences to their customers. 
Let's be clear, no matter how good an ad format or placement is, no matter how accurate the media targeting is – an irrelevant ad, is still an irrelevant ad.

As Marketers are now living in an omnichannel world with increasing internal and external 'CXpectations',  they are expected to do more with less. Digital continues to deliver shattered fragments of consumer touchpoints which has resulted in working and non-working dollars becoming blurred as technology intertwines context (media) and content (creative).

The process of creative from idea to execution has not changed all that much since the ad agency divergence of the 80's, where Media has accelerated in to the world of technological innovation.

The current digital advertising operating structures of ideation, production, distribution and optimisation are disconnected at best. Technology is underpinning transformation and change across Marketing organisations and the time is now upon us for disruption to begin reconsidering the role, reason and the process of Creative.
Why can't we all work together?
The expectation of Marketers to deliver exceptional CX across owned, earned and paid
channels is mind-boggling. Gone are the days of the Marketer solely being the hero and custodian of the brand, they now need to be well versed in content being king while executing a mobile strategy linked to a video strategy that is integrated into a mobile video strategy, in the walled gardens that is plugged into a DMP… Huh?
We all get that its complicated, but when all the focus is given to the pipes, the bit that actually gets put in front of the consumer far too often gets forgotten about. We need to start at the end. By starting at the ad experience, at the creative itself, we can deliver relevance and excellence in a much more congruent fashion.
There are multiple channels, multiple screens, multiple segments meaning there are a multitude of assets that need to be created for any given campaign. However, media typically gets planned and bought first, which results in the creative production being afterthought. This further compounds the challenges associated with delivering the most relevant communications across the disparate channels.
The churning out of lots of independent assets and variants keeps agencies hard at work, but how has technology not given birth to something more efficient and effective?
Something where the most pertinent message is delivered to the consumer based upon what stage of the customer lifecycle they are in. Something where the creative that is live in market is connected and doesn't need to be discarded like a last weeks JB Hi Fi catalogue.
Creative currently operates in a separate and reactive world to media. But it does not have to.
The rise of Creative technology
Technology has put forward a solution to manage digital creative in a new more effective way. It is called a Creative Management Platform (CMP- yep, another acronym). The premise is to allow for collaboration across ideation, production, distribution, analysis and optimisation.

CMP's allow for all the stakeholders with their unique skill sets to work together. This means Creative does not need to operate in a silo that is reactive and not touched by the same data that influences media. It means the one platform can run across all digital channels including the walled gardens.
Creative has to be a connected, responsive asset influenced by data and grounded by analytics that deliver longitudinal actionable insights.
Collaboration and centralisation
Brands typically create core assets that get distributed as stand alone files. For regional marketers they are usually hamstrung by global brand guidelines and not granted flexibility in tweaking the creative.
This becomes more challenging when Media gets planned and Creative Agencies have to produce multiple assets for channels that were not part of the original asset pack. The agency is usually squeezed for time. But, wait, there is no budget for production of multiple variants of the creative. So the lowest common denominator of creative gets put everywhere.

By investing more effort in asset creation, in a platform that allows for assets to be structured and templatised for multiple formats and channels, more than half of the battle has already been won for brands to fulfill Omnichannel requirements.

Let's take a Global CPG organisation. They have leveraged a CMP as a way for global asset creation, distributed to the regions where local brand managers can localise the creative all within the parameters of the platform. Having granted access to their 800+ media and creative agencies across the globe, the organisation has encountered significant efficiency delivered through collaboration and centralisation.

Sure, CFO's love efficiency, but the Marketers were also were able to understand the effectiveness of different creative in different markets, and apply these learnings at global scale.

This level of collaboration across Marketing, Creative and Media stakeholders results in consistency, transparency and accountability.
Agile, connected creative
A bank has over 100 pieces of digital creative in market all focused on a new low interest rate home loan product.
It has taken the Creative agency weeks to produce these assets and the media agency days to traffic the campaign.
Then – there is an unexpected product update or a rate change.

All media gets put on hold. Creative agency work overtime to update all of the assets. So do the media agency to re-traffic and set the campaign live again.
But they aren't sure that all of the 'old' creatives were removed.

Consider this:
All display and video creative is built in a CMP with dynamic elements connected to an existing API or to an online spreadsheet.
The CMP makes it easy for multiple variants of the creative to be produced and copied across through templatisation.
When the rate change hits – the copy gets updated on the spreadsheet or automatically by the API and all creative in market updates in real time.

No agency overtime. No dead media. Consistent governance.

Agile, connected assets deliver efficiency which complements the concepts of programmatic media buying perfectly. The benefits of reduced time to market and tactical flexibility are numerous, though what typically happens, is that this technological intervention can sometimes get railroaded by some agencies where they see the extra hours worked as the cream to their existing revenue streams.

There is still a role for ideation, strategy and the raw assets creation by Creative agencies. But creative does not need to be throw-away and disconnected. It can now live and operate in parallel to the connected fashion of media.
Creative accountability
What was the best performing piece of digital creative that you ran last year? Do you know? If you ran it again today, would you see the same results? Did it work in FB as well as it did on The Age?
How long did it actually take for that banner to be built? And its 5 variants?
Digital success metrics are largely connected to the media metrics of clicks and impression and the occasional conversion.
Creative is the final touchpoint for the hard fought and earned attention of the audience. The centralisation of Creative distribution grants consolidated understanding of how Creative becomes a lever to deliver business outcomes. This is achieved through benchmarking, testing and learning and taking these insights to influence and eventually master creative.
Connected creative across multiple channels, regions and audiences paves way for unprecedented insights.
It is time to get smart about creative

Technology has delivered a solution to break down the silos of Creative and Media and opened the door for data to influence all of the digital touchpoints to assist in delivering exceptional ad experiences everywhere.
With a brand being in control of creative distribution, this puts them in touch with the customer.
A CMP negates the need to discuss working and non-working investment and it is iterative, connected and agile. It is a solution for relevantly reaching the connected consumer.
TrinityP3's Production Management Assessment provides a detailed evaluation of your current production operation and recommendations to achieve optimal performance. Learn more here
Want more articles like this? Subscribe to our newsletter: