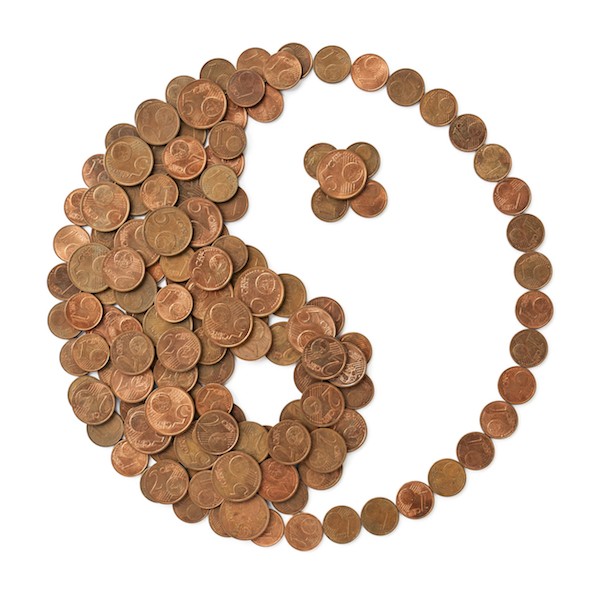 This post is by Mahesh Enjeti, a Senior Consultant at TrinityP3. Mahesh has an Honours in Physics and an MBA (with Marketing and Finance as majors) and has spent over four decades in advertising, sales and marketing across services, industrial products, consumer durables and technology sectors.
Quarternity P4 (my due apologies to TrinityP3) or put simply, the foursome of Product, Price, Place and Promotion has been the foundation of Marketing for eons. It may have become somewhat out-dated in today's context, but I was drawn back to it after reading a piece from The Ethics Centre that Darren Woolley shared with me recently.
Titled "Trust, Legitimacy & the Ethical Foundations of the Market Economy", the paper by Simon Longstaff and Victoria Whitaker is a compelling narrative on the origins of the market economy, its apocalyptic decline and possible ways to help restore the legitimacy of our market institutions.
While I may not entirely agree with its premise that 'trust is of less significance than legitimacy', Simon and Victoria touch on some fundamental issues including the privilege of limited liability, the principle of common good, and the prospect of corporate capital punishment. Topics that should be top of mind for marketers in the Boardroom or those waiting in the wings.
However, my focus here is on Brand ethics and what marketers could do in their day to day functions to act more responsibly, both socially and ethically.
The Ethics Centre paper suggests a simple four dimensional framework (hence, the Quarternity connection) to restore legitimacy to the existence of our commercial institutions:
Respect people
Do no harm
Be responsible
Be transparent and honest
Let us explore each of the 4Ps and examine how marketers can strive to address the values and principles embedded in this suggested framework.
The ideas here are sourced from a paper I wrote four years ago for the Australian Marketing institute (AMI). It was called "The Good, the Generous and the Galvanic"- Marketing's role in Social Responsibility". Those who are members of the Institute can access the document through the AMI's library archives under the 'Thought Leadership' section. Others can request a copy here if interested.
The motivation for my white paper emanated from my passionate belief that although a marketer's primary responsibility is to conceive, create, deliver and communicate value to the consumer (while delivering profits to the business), we can do this in a way that is not harmful and instead is beneficial to the community and society at large.
(In my paper, Galvanic referred to the concept of shared value, Generous alluded to meaningful corporate philanthropy as well as relevant sponsorship, while Good related to day to day management of the 4Ps).
There are several aspects around sustainability, poor working conditions, child labour and use of harmful ingredients/components etc that do impact brand reputation.
Unfortunately, many of these decisions may not be within the realm of every marketer's responsibility. So, the focus here is on things that a marketer can more readily control in the course of managing the 4 Ps. 
Product:
Consider things like product quality, consumer friendly product design, safe and reliable performance, environment friendly and cost effective packaging, ease of disposal, and greater concern for vulnerable market segments including children.
The instances where marketers can begin to show a higher level of social, environmental or ethical responsibility abound around us. Just to cite a few random examples – auto manufacturers race to produce the next driverless car but never saw the need to design a more female-friendly driver's seat belt!
For the old, infirm and some women and children, most plastic packaging is not only difficult to pry open but often unsafe. Many tetra pack containers are not the easiest to flatten before putting these into the recycle bin. There was a period when Fidget spinners were popular (including as giveaways) while we chose to ignore their potential hazards.
I see exposed power sockets everywhere in shopping centres at a level within the reach of a small child (often left switched on by the cleaners from the night before) that continually escape the attention of shopping centre managers and security staff.
The list is endless. Some of these might appear too trivial on the surface but at their core reveal a culture of a lack of concern for Responsibility (item 3) and commitment to cause no harm (item 2), identified in The Ethics Centre's framework. The seeds of a cultural shift may be small but their impact over time can be huge.
I also find product responsibility is an area that receives scarce attention in most CSR discussions. The media and even the Boards of companies take notice only when accidents occur.
Pricing:
Pricing decisions may not always be determined by Marketing which is surprising given price reflects competitive value (of course not all marketers will have a good understanding of numbers).
Despite that, we can all play a more active role in ensuring that pricing structures are less complicated and more transparent allowing consumers to easily compare competitive offerings. Mobile phone plans continue to fox me even to this day. You will find many more if you look around.
Online access to ever decreasing prices (as marginal costs continue to decline) has conditioned us to believe that people are only after the lowest price. The truth is they are mostly seeking a fair price as long as the product is safe, reliable, durable and does what it says.
Marketers have the opportunity to ensure greater consistency in their pricing practices, provide clear explanations for any changes and avoid unhealthy competition. Every time my private health insurance provider raises its premium, I receive a letter in the mail indicating the level of increase with only vague, if any, explanation.
The fact that the increases are approved by the Health Minister (aided by APRA) seems to absolve the Fund of any responsibility to explain the premium increase to the consumer who is actually paying for it.
They also have the opportunity to call me and explore ways I can save some money by altering my level of cover, excess amount or some features. Even the AMI, an association of enlightened marketers recently emailed me its invoice (for my Fellowship subscription), with no reasoning behind the 8.25% increase in fee.
I do realise the cost, time and other resource constraints that organisations, especially NFPs, operate under. But renewal time is a critical moment of truth whether you are a health fund, a professional association or other subscription based service.
Unfortunately, the average consumer will perceive these as a sign of apathy (item 1) and lack of transparency and honesty (item 4).
Promotion:
The ACCC has made some good progress in recent times, curbing undesirable market behaviour. Also pleasing is the growing evidence of voluntary regulation in advertising. Even so, truth and honesty have been repeatedly distorted in the name of creative licence.
There are continued instances of embellished or unsubstantiated claims, absence of objectivity in comparative advertising, stereotyped or sexist portrayal of women, ethnical imbalance in talent, a disregard for children's well-being etc. Marketers can certainly play a direct and more definitive role in 'Promotion'.
The demographic and psychographic profile of those in advertising rarely mirrors the composition of the market these bright minds are trying to reach and influence. Political correctness and an increasingly diverse population may have stunted our perception of creativity, and sometimes, our propensity for Australian banter.
However, humour is not about ridiculing anyone who is different from the mainstream. Examples of advertising that is in poor taste, pointless or even plagiarised are not uncommon.
The indiscriminate urge to retarget messages and our obsession to be "always on" has led to marketing communications saturating every channel at every hour of the day with no concern for how we may be interrupting or even intruding into people's lives.
The callousness with which we can treat people's personal information was amply demonstrated by Facebook. If only businesses had exercised greater restraint, we would probably not have the need for harsh checks such as the European GDPR. AI will no doubt layer another dimension to the whole issue of privacy even as the tension between GDPR's 'Forget' principle and Blockchain's 'forever' platform begins to escalate.
In 'Promotion', marketers have the capacity to address all four dimensions of the ethical framework i.e. Respect, Responsibility, Do no harm and Transparency & honesty.
Place:
Unlike in 'Promotion', the initiatives in Distribution may entail increased costs whether it is to enable better access to disadvantaged, remote or indigenous markets, achieve a more equitable sharing of value across channel players, ensure more environmentally responsible logistics solutions, or impart greater efficiency, trust and reliability in e-commerce transactions.
Other ways marketers could become more responsible is in the form of greater commitment to ethical competition, adoption of fair retail practices, and offering convenient and reasonable return policies.
The proliferation of voice activated devices will mean information channels (in both directions) extend to the very heart of our customers' homes, placing greater responsibility on marketers.
So also, the advent of IoT devices will require consumers to be cautioned against potential risks by including device capability and technical specs similar to food labelling. The power of the data collected from these gadgets will increase exponentially once augmented by AI.
If marketers focus only on grabbing the opportunities that new technology presents, ignoring their responsibility to respect consumer's safety and security, primacy and privacy, autonomy and rights, trust is bound to erode faster than it is built.
Thus, 'Place' too has implications for all four dimensions.
The bottom line
The above list is not exhaustive, nor will it represent circumstances unique to every sector/company.
In my AMI paper, I had suggested that there was ample scope for "marketers to look within rather than outwards when seeking opportunities for responsible corporate behaviour. In other words, marketers can apply a duty of conscience test even when making day-to-day marketing decisions without waiting for changes to the law".
As stated, this is more easily said than done because of potential cost impacts and uncertain dollar benefits especially in a volatile, uncertain, and challenging economic environment.
I am hopeful that over time we would be able to establish a correlation between ethical brand behaviour, brand reputation and potential business benefits e.g. increased market share, price advantage, ability to attract the best talent, increased customer loyalty and advocacy, less volatility in share price movements etc.
Let's make a beginning with the 4Ps. Who knows, it could create a ripple effect across entire organisations!
Is your marketing strategy supporting the business goals and objectives? Find out more about our qualitative and quantitative approach here
Want more articles like this? Subscribe to our newsletter: