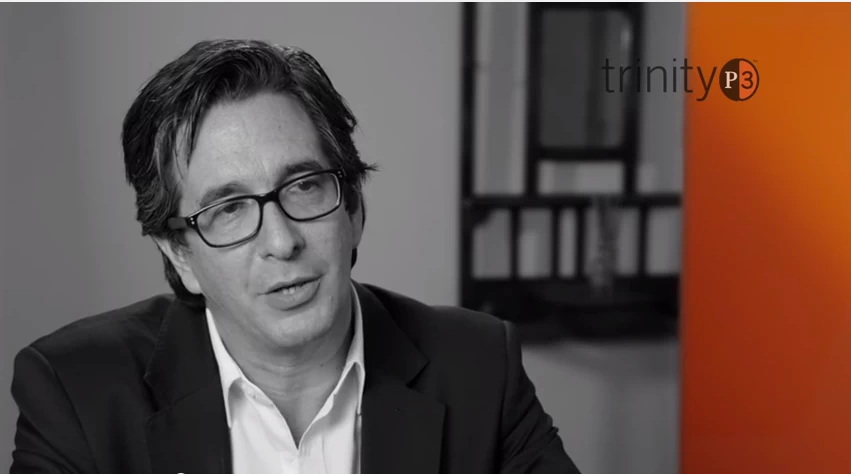 This post is by Darren Woolley, Founder of TrinityP3. With his background as analytical scientist and creative problem solver, Darren brings unique insights and learnings to the marketing process. He is considered a global thought leader on agency remuneration, search and selection and relationship optimisation.
As TrinityP3 continues to grow, so does the team of professionals within the company as does the depth of experience and expertise. Therefore I want to take this opportunity to introduce some of the core team members and their expertise, before having them answer three questions on what they do being:
What are the challenges facing marketers today in their area of expertise?
How does TrinityP3 assist marketers in this area?
What advice would they give to any marketer facing these challenges?
Finally in this series of TrinityP3 expert videos I'd like to reintroduce you to me. As the founder and the Global Managing Director for TrinityP3 I have been involved in a wide range of projects with the full breadth of marketers around the world. The interesting commonality is that most marketers are struggling with the incredibly complexity being driven by technology and the impact this is having on people and the market.
In this video I address the issues surrounding this complexity. Technology is increasing the options and opportunities available to all marketers who are dealing with issues such as how to integrate this technology into customer relationships in an effective and seamless way and how to best structure their marketing teams internally and their suppliers externally to best deliver the strategy.
Q1. What are the biggest issues for marketers in managing their agencies?
I think the biggest issue today for marketers is managing the complexity of the marketplace.
Technology particularly is driving complexity throughout the marketing mix.  New channels, new ways of doing business, new ways that the consumer is engaging with brands is actually driving this.
And so what we're seeing is that marketers are becoming confused or challenged by these constant changes in technology and what that means is in response to that, marketers are often finding themselves getting a range or a roster of agencies that covers all of these different areas.
So instead of just having their creative and media agency, they've now got specialists in each area. It's not unheard of for marketers to have twenty, thirty, even up to one hundred different agencies to cover this level of complexity.

The problem with this is that they're spending way too much time having to manage that and they have to manage it because there's a huge amount of gaps, overlaps and duplications which means there's great inefficiency in the way they're working.
Q2. How is TrinityP3 able to assist them?
TrinityP3 provides total independent advice.
The mistake a lot of marketers make is that they'll often when confronted with a huge roster of agencies, turn to the agencies themselves, often their lead agency, and ask for advice on what the roster should look like.
Now clearly, you're asking someone with a vested interest to provide independent advice and it doesn't happen.
It's like turning to the poacher and asking them to become the game keeper.  They have an interest which is not necessarily aligned with the interest of the marketers.
TrinityP3 doesn't have that conflict of interest.  We're purely there to make our clients more efficient and more effective with the resources they have and help them align those resources and capabilities to the strategic requirements, no matter how complex, that the marketer is facing.
Q3. What advice would you give to marketers facing this challenge?
I think the biggest problem marketers have is that they have no time, so what they're often doing is so caught up in delivering the marketing strategy, they have no time to manage it.
So I'd say to people, always make time to manage the roster effectively.  There's an old saying, "How do I drain the swamp when I'm up to my ass in alligators?" and I think that's what marketers are suffering from.
You need to make that time to work out what your requirements are and then plan out what you need to do it.  Now, if you can't do that yourself, I think that's where we can help.
To read more of Darren's insights and knowledge on agency roster management and more, check out his posts on TrinityP3 blog here
Video production by Phil Rich – 2 Feet Films
Want more articles like this? Subscribe to our newsletter: