Corporate values, like corporate purpose, is a hot topic. Doing good is considered by many to be good for business, good for society, good for the environment and good for the world at large.
Values such as equality – leading to cultural and gender diversity and inclusion.
Environmental sustainability – to minimise the impact on nature and encourage species diversity.
Good corporate social responsibility – to act towards ending slavery and human trafficking.
Supporting philanthropy – to help those less fortunate.
But how important are these when it comes to selecting an advertising agency or another marketing supplier? Is it good for advertising agencies and their businesses? Does doing good pay off in being more successful in winning clients and maintaining good client relationships? Earlier this year, we ran one of our industry polls on the topic and found an interesting result.


Now, we are not proposing that this is in any way statistically significant or even completed by marketers alone. But, while 35.48% of respondents said it was not important for your agencies to share or align with your values, the rest 64.52% disagreed to some extent. Even the 22.58% that said it depends on how much you are paying the agency demonstrated that the consideration was a financial consideration, ironic, sarcastic or not.
Along with the industry coverage on the growing acknowledgement the industry is not inclusive or representing the community in diversity, it was enough for us to review the information on our Agency directory.
The TrinityP3 Agency Register is an online database where agencies of all types can create their own secure record to share the type of information advertisers need when looking for a new advertising agency. You can find details here of the information stored there from more than 3,000 advertising agencies, media agencies and more.
Last year, we supported the #womenwithagency movement started by Bec Brideson. We invited agencies majority-owned by women to put the hashtag in the Agency Ownership field in the database so we could identify these agencies.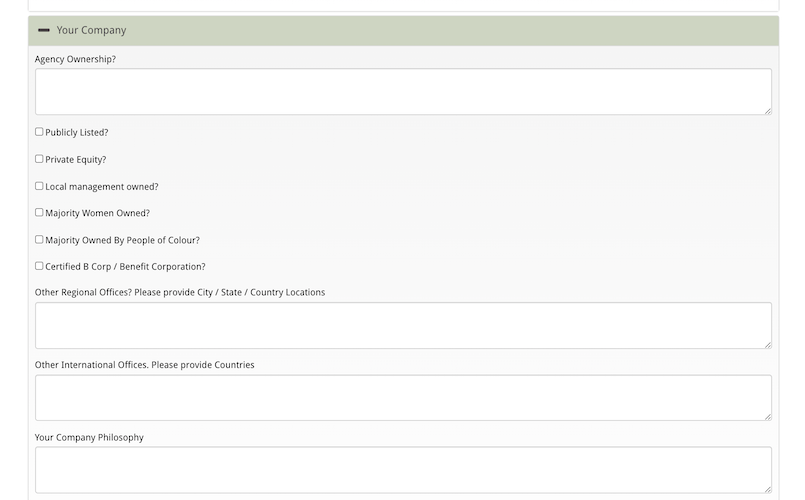 But, beyond agencies majority-owned by women, we have now expanded the descriptions on the ownership types to include B Corps, companies owned by people of colour and local management-owned / independent.
We have also asked agencies to provide details on where they stand on a number of important social issues and values, including cultural and gender diversity and inclusion, environmental sustainability, good corporate social responsibility and corporate philanthropy. Where the agency indicates this is a value or social issue they support, we ask them to provide supporting evidence of action.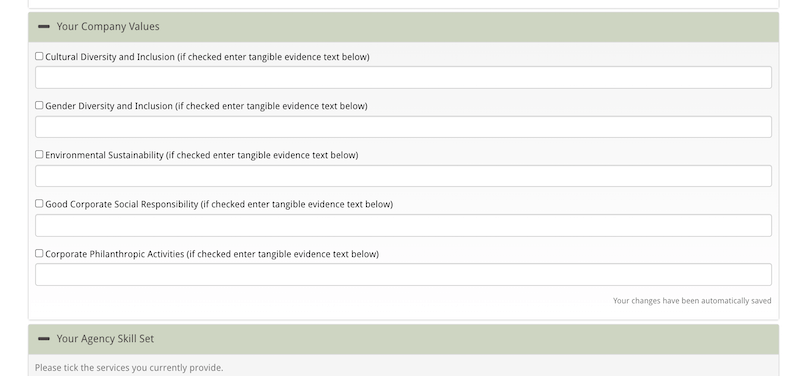 In corporate-philanthropy, this is an opportunity for agencies to highlight their pro bono clients. For environmental sustainability, they can provide details of their policies and activities to reduce their greenhouse gas emissions. While we are not providing guidelines, obviously, tangible actions will outweigh words and good intentions.
What does this mean for advertisers and agencies?
For advertisers, it provides the possibility of achieving a much closer corporate alignment on major business ethical issues and values. This is a particular focus for many procurement teams and corporate comms teams. But it is also increasingly important for marketing too.
For agencies, it creates the opportunity to be acknowledged and recognised for their efforts, commitments and actions in doing good. There is an increasing trend, especially amongst the smaller networks and independent agencies to qualify as B Corps. This provides an opportunity for this to be recognised as part of the pitch process to be considered for and win new business.
While to date, the demand from advertisers has been only moderate, we believe there is a growing interest, and corporate necessity, for greater governance and due diligence in managing the supply chain. In this case, the advertiser/agency relationship.
Time will tell. In the meantime, for those advertisers and agencies interested, we are happy to bring a more rigorous focus on values, ethics and sustainability to the process.
TrinityP3 has developed a suite of products aimed at increasing your marketing performance to achieve improved business outcomes. Find out more here
TrinityP3's global agency register is a free service, an advertising agency directory used to facilitate new business reviews. TrinityP3 manages an increasing number of agency reviews across the globe. View it here