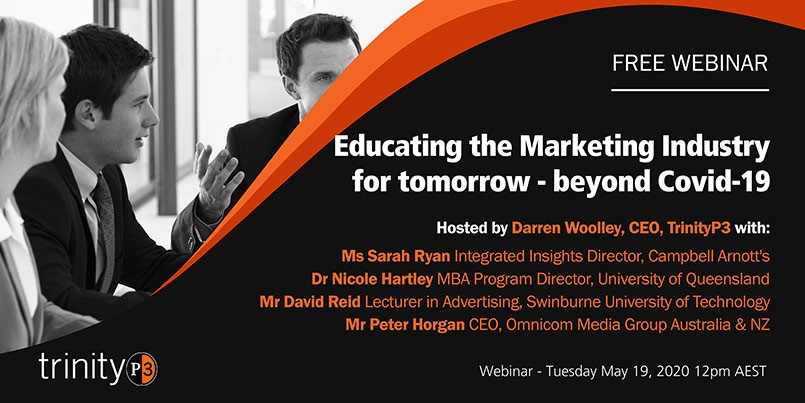 Topic: Educating the Marketing Industry for tomorrow – beyond Covid-19
Date: Tuesday May 19
Time: 12.00 – 13.00h AEST
Presenters: Darren Woolley, CEO, TrinityP3 with:
Ms Sarah Ryan, Integrated Insights Director, Campbell Arnott's
Dr Nicole Hartley, MBA Program Director, University of Queensland
Mr David Reid, Lecturer in Advertising, Swinburne University of Technology
Mr Peter Horgan, CEO, Omnicom Media Group Australia & NZ
Description: What are the capability and training needs for marketing, media and advertising? With a rapid change in the market, driven by technology, what are the skills and the knowledge the market is looking for in marketing graduates? And what are outcomes Universities are and should be focusing on when developing course curriculums for marketing now and in the future?
With the global disruption caused by the COVID-19 pandemic and the universal belief that smart marketing will be one of the drivers to help business navigate the way through the changes and uncertainty ahead we have assembled a panel of subject matter experts from academia and industry to discuss this important topic.
During the webinar we discuss:
What capabilities and skills are brands and agencies looking for in graduates?
Will this change in the future based on the impact of the COVID-19 pandemic?
What outcomes do Universities focus on and how are these aligned to industry needs?
How do Universities monitor and pivot to the changing needs of marketing?
Video Recording:
Relevant Blog Posts:
The importance of mastering marketing principles
The real problem with data is marketers don't know how (or when) to use it
Digital and Technology alignment – Become an instant expert
Media performance management – Become an Instant Expert
Agile Marketing delivery – Become an instant expert
Marketing Performance measurement – Become an instant expert
Agency Performance management – Become an instant expert
Environmentally Sustainable Marketing – Become an instant expert
Click here to view other webinars.