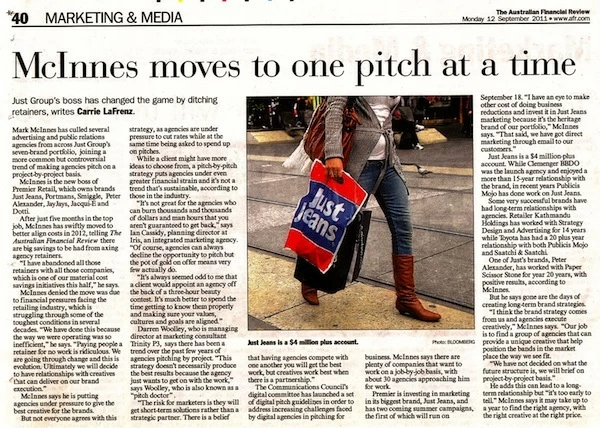 There is an article on page 40 of the Financial Review (Sept 12 2011) titled "McInnes moves to one pitch at a time". In it Mark McInnes, ex-CEO of David Jones and now boss of Premier Retail has axed agency retainers and has the agencies pitching on a project by project basis.
In the article I am referenced as saying this has been shown to not be a successful medium to long term solution.
There are several marketers who have gone down this track, including GMH Holden, Vodafone, more recently Subaru and now Premier Retail.
In every case it led to the rostered agencies playing this game for a number of months before resigning the business. And ultimately most go back to a traditional model with their agencies.
Why?

Because Mr McInnes, agency pitching is NOT the solution to your agency compensation issues. I agree that for an increasing number of advertisers, retainers are not an efficient way to remunerate your agencies. They are very popular because they can be easy to set and forget and this is why they become inefficient.
There are many other different variations of agency compensation models and relationship structures to address individual marketer needs. But putting the account to pitch either to the market or to a "panel" of agencies is the least effective short and long term.
1. It is costly on agencies and the marketing team in time and resources
2. It requires a huge focus on discipline from the marketers to stay on strategy
3. It means you get the solution you want and not necessarily the ones you need
The proof is in the fact that it ultimately fails as Mr McInnes acknowledges himself in the article with "It may take up to a year to find the right agency". In actual fact he is using this process to find an agency partner.
And this procurement strategy is just reinforced by the "30 agencies approaching him for work".
Want more articles like this? Subscribe to our newsletter: