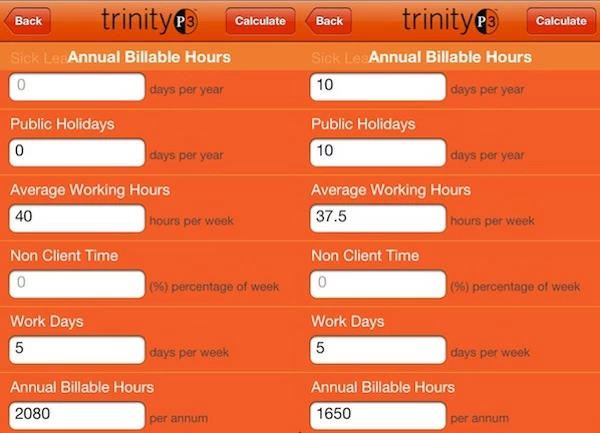 Had a phone call the other day from an agency CEO. It seems that they are in negotiations with a potential client and another consultant (a competitor) is managing the process.
The consultant has proposed annual billable hours of 2000 hours per year. The agency queried the consultant and said that they believed that the industry standard in Australia was 1600 – 1650 hours a year.
The consultant replied, in front of the client: "…we didn't realise staff at your agency only worked part time…" Ouch!
Now if our competitor had downloaded our free business iPhone app the TrinityP3 Resource Rate Calculator they would be able to see their mistake.
Billable hours is the number of hours a full time FTE can work in a particular market. This is calculated based on:
Number of hours worked per week – 37.5 hours is a standard in Australia, but can also be up to 40 hours.
Number of public holidays per year – Including State and National holidays this is ten per year
Number of days annual leave per year – 4 weeks leave or 20 days is the standard
Number of days sick leave per year – 10 days sick leave is allowed. It may be sometimes less, but generally 10 days.
Of course there is also a percentage of time given to staff training, professional development and agency administration etc, but lets leave this at zero.
The TrinityP3 Resource Rate Calculator shows that this adds up to 1650 hours per year.
To get 2000 plus hours a year, as the consultant suggested, you need to expect the agency staff to work through their annual leave, public holidays and never be sick. Not exactly a sustainable or even reasonable proposition. But then some consultants throw reason out the window in a desperate attempt to reduce costs.
Which is a real insight into the consultant, isn't it?
PS: For those who do not have an iPhone, these calculators are available on the TrinityP3 website.
Want more articles like this? Subscribe to our newsletter: