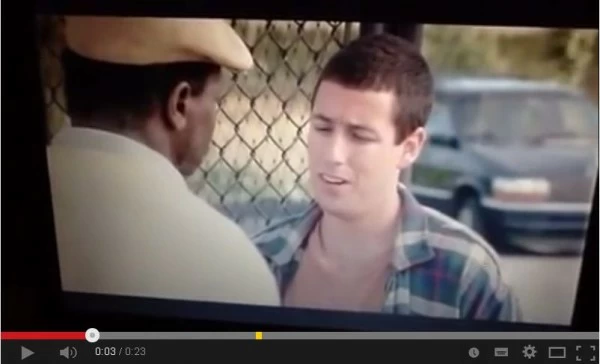 This post is by Anton Buchner, a senior consultant with TrinityP3. Anton is a lateral and innovative thinker with a passion for refocusing business teams and strategies; creating visionary, data driven communication plans; and making sense of a more complex digital marketing environment.
Remember Chubbs from Happy Gilmore? "A damn alligator bit my hand off", he said to Happy.
In the deep grassy landscape of marketing and advertising you need to be careful of alligators and other predators ready to rip your limbs off.
In this post I want to draw your attention to the rapidly changing landscape of service providers facing marketers today. All ready to rip revenue out of marketer's budgets.
However are they generalists, specialists, specialists in being general or general at trying to claim specialism?
The message is caveat emptor (buyer beware).
The old landscape
I won't labour the point. We all know it was cleaner when marketers knew the difference between media, advertising, direct mail, PR and promotions agencies.
However, the larger agencies became, the wider they cast their net. They started offering all disciplines under the one roof or network. Changing from specialists to generalists. Or as they would argue, "an ecosystem of specialists".
The new landscape
Fast forward two and a half decades from the 90's to today, and the landscape has evolved dramatically – offering agencies, start-ups, hot shops, consultancies, and fluid open sourced models – all offering generalism or specialism in one or all of these service areas to name but a few. And seemingly with "digital at their core"
Brand building
Brand story telling
Content
Digital
Email
Technology
e, f & m-commerce
Social
Mobile
Search – paid and/or organic
Multicultural
PR and events
Sponsorships and activation
Experiential
Data and analytics
Ideation
Video
Social purpose
Identity
Green
And the list goes on and on and on….
With all the confusion, there's also a breed of agencies claiming differentiation by simply "selling more stuff" – and getting back to basics.
Same same or different?

If you look at the myriad of service supplier websites, the claims are amazing. Yet the service offerings are scarily similar.
At TrinityP3, we see many agencies pitching differentiation yet ending up sounding very 'same same.'
Here are some of the various claims that we've seen or heard recently that are being duplicated across multiple providers:
"specialising in Brand Experience Marketing"
"paradigm shift strategies"
"insightful solutions"
"fully integrated, total capability"
"360 degree range of services"
"seamless, multi-channel digital experiences"
"comprehensive marketing services offering"
"innovative ways to connect with audiences"
"planning successful conversions"
"optimising relationships"
Is it agency bingo? Have agency's had to become generalists to compete for their slice of the marketing budget pie?
What happened to Al Ries' idea of "FOCUS"?
LOST or FOUND?

Has the communications service industry lost its way with the digital and mobile blurring of lines?
Is it still right to differentiate on service offering or should agencies refocus around market segments, vertical industries, or even customer segments?
I'd love to hear your thoughts on where the industry is going. Who will stand out? And how are marketers coping with such blurred lines?
To help marketers navigate these murky waters, here are 5 simple initial questions to ask any agency that you may be considering (or even your current agency):
1. What is the agency purpose?
(ie: why do staff really come to work each day). When listening to their purpose discuss what it really means. How does it actually show up throughout their business? How does it truly affect their people at all levels? And ultimately how does it show up in their work?
2. What are the agency's top 3 revenue earning disciplines?
How has this changed over the last 15 years? Probe the agency with why it has changed, how it has impacted on the agency's purpose and structure, and how they view the next 5 years.
3. Why do they believe their agency model is different?
Challenge the agency to dig a little deeper on how their model can align with your business. What opportunities are there to tailor processes and methodologies to effectively align with your business? At the end of the day it's all about working together to achieve a greater output.
4. Why do they believe their agency model is effective?
How do they actually measure their claims? Is there any science behind them, or is it purely lip service? And most importantly, what measures do they live and breathe every day to map back to their purpose?
5. How are they measuring their impact on the marketing landscape?
Most agencies claim to measure the impact of their work, however what impact are they really measuring? And how will it deliver you greater insight into what's working and what's not in the wide world of marketing?
Agency people, I'd love to hear your thoughts and comments. Is it blurry? Or do you feel that your agency has a crystal clear point of difference? Would you refocus around new criteria (market or customer segments, vertical industries) rather than your current service offering?
Marketers, as mentioned earlier, how are you coping with the blurring of lines? Are the agency claims becoming more vacuous, or are you discovering focused, hidden gems for your business?
Want more articles like this? Subscribe to our newsletter: