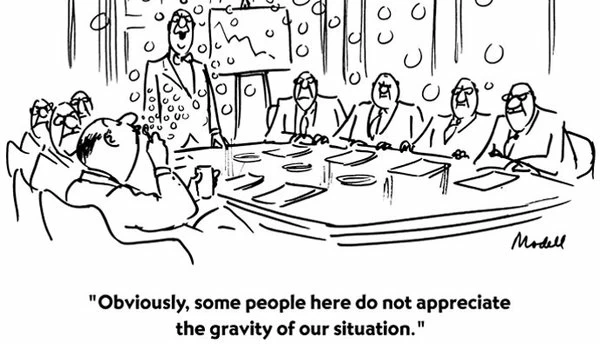 This post is by Michael Farmer, Chairman of TrinityP3 USA and author of Madison Avenue Manslaughter: an inside view of fee-cutting clients, profit-hungry owners and declining ad agencies, which won the Axiom Gold Business Book Award for the best marketing / advertising book of 2016.
Who is suffering the most from Madison Avenue's manslaughter? Agencies, who see declining fees and growing workloads, and have been downsizing to generate holding company margins — while slowly destroying their capabilities? Or advertisers, whose brands are languishing, putting CMO tenure at risk?
Relationships look like speed-dating matchups that end up as one-night stands with disappointing sex. Something needs to change. Madison Avenue needs a makeover. Advertisers need to kick-start their brands' performance.
Legacy brands are in trouble. McDonald's, P&G, Coca-Cola, PepsiCo, American Express, Unilever, Kraft, Nestle, Macy's, JC Penney, Gillette, General Mills, Kellogg's, Miller Coors – just to pick a few out of many.
"Blame the millennials" is a recurring theme. "We need lower costs" is a constant battle-cry (more often heard than "we need growing sales!") "More digital and social marketing" is seen, without much genuine conviction, as a solution, along with agency relationship experiments that give the appearance of vigorous action.
Among the agency experiments are holding company relationships; "best in class" agency selections; ad hoc and growing scope of work deliverables; auctions of deliverables among selected agencies; creation of internal agency operations; use of management consulting firms; and ongoing programs of agency reviews, firings and hirings. And let's not forget the use of dubious metrics like "working / non-working" cost ratios, which distract rather than inform marketing thinking.
The pace of experimentation is as breathtaking as it is foolish and time-wasting. Behind the thinking is the apparent belief that brand health will be restored once experimentation identifies a winning formula. It's like "if we buy enough lottery tickets from enough different places, we'll finally win the lottery!"
The transactional relationships that emerge from this experimentation, though, are flawed, and the odds of finding a winning formula are low, indeed. The net effects of relationship experimentation are threefold: 1) increased complexity for Marketing; 2) unhealthy obsession with short-term thinking; 3) reduced agency capabilities, confidence and commitment.
The Marketing / Procurement management duo seems to have either forgotten or abandoned the lessons of the supply chain revolution of the '80s and '90s, which saw the achievement of increased product quality and lower costs through a serious commitment to fewer, more engaged suppliers. The supply chain revolution saved the US automotive industry and brought about decades of improved quality and lower costs for manufactured and distributed goods and services, here and abroad. It's all laid out in two books: The Machine that Changed the World, and The Toyota Way.

The advertising industry, in my experience, is the only industry to have ignored the supply chain revolution and gone backwards – from few suppliers to many; from strategic relationships to commodity-like transactional relationships; from focusing on strategic problem-solving to managing the problems of agency complexity and change. Needless to say, it is not surprising that the problems of brand growth and profitability have not been solved.
What would a Madison Avenue relationship makeover look like?
1. Strategic relationships. Advertisers would embrace a few agencies and create strategic relationships with them to achieve a major turnaround in brand performance on a long-term basis. https://www.trinityp3.com/agency-performance/strategic-supplier-alignment/
2. Performance goals. Advertisers and their selected agencies would determine, through hard-nosed strategic analysis, the "full performance potential" of the client's brands – how much larger and more profitable the brands could be if certain actions were taken. https://www.trinityp3.com/marketing-performance/budget-kpi-and-roi-setting/
3. Focused purpose. The purpose of the strategic relationship between advertiser and selected agency would be "to close the gap between 'current performance' and 'full performance potential.'" https://www.trinityp3.com/marketing-performance/marketing-planning-process-review/
4. Joint planning. Advertisers and their selected agencies would determine, through a healthy process of give-and-take, what media mix, media spend, and scopes of work (by deliverable) would have the highest probability of achieving full performance potential over the next several years. Agencies would be expected to have a strong and defensible point of view on this subject.
5. Experimentation. Advertisers and their selected agencies would work closely on the media and SOW programs, experimenting with program changes throughout the year on the basis of ongoing market feedback. https://www.trinityp3.com/delivery-implementation/engagement-agreements/
6. Relationship efficiency. Advertisers and their selected agencies would work to ensure relationship efficiency – good briefing processes, no excessive use of multiple creative teams to generate a surplus of creative ideas, no excessive rework from inefficient ad approval processes – and ensure that agencies were paid fairly for all the work and resources required (using SOW measures, not timesheets). https://www.trinityp3.com/agency-performance/scope-of-work-management/
7. Shared benefits. With the generation of improved results, advertisers would increase agency remuneration – by lifting the billing multipliers – on the understanding that the increasing ROIs would be shared in this kind of strategic partnership. https://www.trinityp3.com/agency-performance/agency-remuneration-and-negotiation/
8. Satisfaction from results. Selected agencies would derive their satisfaction from being successful in achieving what they were hired for, and from becoming more profitable in line with their clients, and as a result they would no longer be tempted to seek satisfaction from submitting and winning irrelevant creative awards. https://www.trinityp3.com/delivery-implementation/relationship-performance-evaluation/
9. More women in senior executive positions, particularly at agencies. Let's face it — the white males who have dominated agency leadership positions have clung to the Golden Past and failed to keep their agencies strong and respected for their clients. Women — the traditional outsiders in the agency C-Suite — may have a better chance to bring new leadership and visions, rebuilding their agencies to become equal strategic partners with their clients.
Few agencies today are equipped, from a philosophical and talent basis, for strategic relationships of this nature. This is not to say that advertisers should not seek out agency partners, and help them, through carrot and stick, to meet this higher performance requirement.
Both advertisers and agencies will benefit by entering into such demanding relationships. Who'll be among the first to give it a try?
We exist to help you drive best possible performance outputs. We can help you innovate to achieve this with these Agency Performance Services
Want more articles like this? Subscribe to our newsletter: