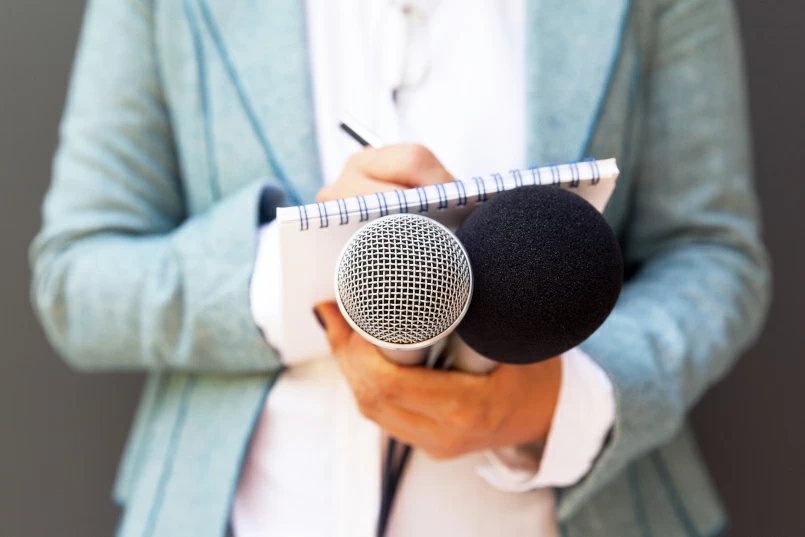 This post is by Jules Brooke, a DIY PR Expert, Speaker, Founder of the Handle Your Own PR SaaS Platform and mentoring programs and the host of She's The Boss on Ticker TV. 
Let's talk about the pandemic and the effect it has had on agencies. Many have lost clients or the clients have asked for the work to be put on hold while they wait to see the fallout from the isolation period and how its going to affect them. Your teams are working from home and everything is in a state of flux. As someone in the industry recently said to me, "there's no point advertising our clients' businesses if their doors are shut." 
But the pandemic and lockdown provides you with a huge opportunity to build awareness for your agency outside of the marketing and advertising industry. Getting mainstream media coverage right now will position you as leaders in your industry and help attract potential new clients, by keeping you top of mind for when they are actively looking to get their marketing going again.
There is no doubt that when we come out of the isolation period, businesses, just like the rest of us, will be reassessing what they were doing before. They will be looking for their suppliers to reflect their newly adjusted mindset, and potentially the new way their business will be working.
There has been a lot of talk about kindness, authenticity and transparency during the lockdown. People have had the time to stop and reflect. Many want to make changes to the way they run their business, and the way they communicate with their employees and customers, which may well mean a change of agency. And it probably means they are researching and looking for suppliers whose values align with their own, so why not let them know by getting published in the media that they consume?
Now is the time to write those articles that reflect what your agency stands for and the kinds of results you can get for your brands, but in informative or story form. And if you are generous in your information (and don't 'sell' but tell human stories and offer genuinely useful information), and you can spin a good yarn then the mainstream media will pick it up and push them out to their own audiences. And their audiences are your potential new clients.
We're not talking about getting articles in B&T or Mumbrella or Campaign here. We're talking about getting articles in the Fin Review, Smart Company or CEO magazine. Getting newspaper coverage in the main metro newspapers in your state. Getting your CEO or a company representative radio interviews or on breakfast TV. The fact that there is a whole TV show, The Gruen Factor, that's dedicated to advertising proves that people outside the industry are fascinated with the way it works. They want to hear the reasoning behind campaigns.
Right now the media have more need for pitches than they ever have. They have less journalists writing for them, but more eyeballs than ever on their content. With many PR agencies closing their doors and many clients choosing to 'be quiet and keep their head down', there is a wide open opportunity for your agency to help fill the content gap by providing them with articles that they can 'cut and paste' and use immediately. The same goes for radio and TV shows that are getting fewer pitches for interviewees at a time when more people are watching and listening than ever before.
It's important that you understand the difference between making a company announcement (that probably only has relevance to your competitors), and offering good, practical advice that the reader can use. By telling them how to do something, or to avoid making mistakes, you're not giving away your IP, you're displaying your expertise. 
The value of PR
PR does a lot more than build brand awareness. For instance, I know first hand the results for the CEO of a Sydney branding agency who decided to learn how to handle her own PR. At first she was surprised by how simple it was to get her articles about the importance of logos, or how important branding is to a hotel chain, or a personal trainer, or an airline, picked up in the mainstream media. Then she got used to it and started smashing out media pitches every couple of weeks.
Within six months of consistently sending articles and stories that related to the benefits of engaging a branding agency to the media, she had been published more than 20 times. By that stage she had personally gotten to know some of the journalists so they were picking up her pitches every time, and she regularly has one article published multiple times by different outlets.
Her website traffic grew 300%, her new business enquiries started to increase and the phone was ringing consistently, she was invited to do speaking gigs and the social media followers for the agency increased by 20% across the board. And it hasn't cost her anything but her time.
Now, if she chooses to employ a PR agency, she knows exactly what to expect. She knows the angles that work and how to write in a way that the media picks it up every time. She also has a relationship with the journalists, and the media outlets, that like content around branding. She will be able to get the most out of her PR agency because she understands the process and what the publicists will be doing to get her more exposure.
In today's digital age, there are so many opportunities to reach people using magazines, newspapers, blogs, radio and TV, to create more publicity than ever. The growth in digital publications is almost too fast to keep up with – the types of publications are expansive. The ever-changing landscape of social media makes it so easy to get in front of people to tell your stories. 
There are a few things an advertising agency must consider before they decide to get publicity for themselves.
What case studies could you use?
Your stories shouldn't be contrived. Could you talk about something that has been happening with your staff or your team through the iso period? What about critiquing a well known campaign or writing some advice for a specific industry? Certainly any guidance in terms of what big businesses could be doing to build up their customer base again fast would be very welcome right now. 
You can also work together with clients to build awareness for both your brands, but perhaps talk about your relationship with them as well as the work you have done. And make sure you get their permission, and that they are happy to talk to a journalist or have a photo taken just in case the journalist asks!
How good is your photography?
If you are writing informative articles or opinion pieces, make sure you have a great shot or illustration that works with the article. If you have a really good shot, many journalists say they will work harder to get the story across the line because they want the image!
If you don't supply the image (and this is a 'clean' shot with no logos or text), then the journalist often has to search through stock photography libraries to find one themselves. Something most people hate to have to do. So always send a fantastic image along with your media release and you're almost halfway to success!
News media loves research and stats!
If you have any research results that you can use to get exposure for your agency, then use them. This can be research from overseas or research you have conducted. If you do have some juicy stats, lead with them in your media pitch.
TV, radio and newspaper news all love statistics. Bear in mind that your ideal target would be the main metro newspaper in your state. If you can get a story in there, then you have a big chance of the story getting picked up by radio chat shows and possibly the evening news. That's what you want!
PR is your friend. It really is the gift that keeps on giving when it comes to marketing your agency, and attracting new clients.
It's not hard to do – it's a process you can learn

The media is desperate for more content

right now

There are more people watching than ever, across all types of media

Publicity increases trust and positions you as the best of the best

It increases your SEO

It gives you something to share on social media and on your website

You can show CEOs and Marketing Directors what you stand for and how you can help them, while they are making decisions about their future marketing
I strongly encourage all agencies to start doing PR right now, whether you do it in-house or employ an agency. Use this time to become familiar with what the media wants, and build some media relationships outside of the advertising department!
Want more articles like this? Subscribe to our newsletter: