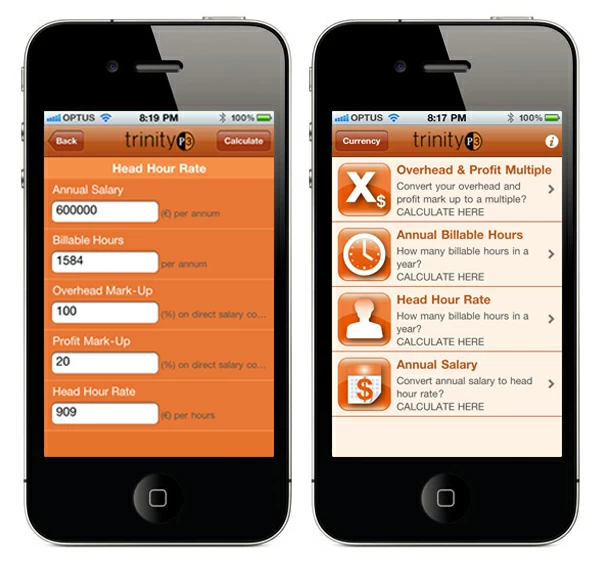 TrinityP3 has taken our agency compensation calculators and developed our very own iPhone app.
Available free from the iTunes App Store in the coming weeks, the TrinityP3 Resource Rate Calculator will allow users to calculate overhead and profit multiples on direct salary costs. Calculate the number of billable hours per annum and from this be able to quickly convert annual salaries into head hour rates and head hour rates into annual salaries.
The Resource Rate calculator has 4 calculators in one:
1. Overhead and profit multiples – what factor must you multiple the direct salary cost by to cover the business overhead and profit
2. Annual Billable hours – how many billable hours are there in a year after annual leave, public holidays and sick leave
3. Annual salary – based on the hourly rate what is the person's annual salary
4. Hourly rate – based on the annual salary, what is the hourly rate
We developed these calculators for our website because so many marketing, procurement and agency people found calculating these compensation factors confusing and time consuming.
Soon they will be available as an iPhone App.
So what phone operating system do you have? Let me know. Is it iOS (Apple), or Windows Mobile? Android? Blackberry? Bada? Or something else. Because the most popular will be the one we develop next.
Want more articles like this? Subscribe to our newsletter: