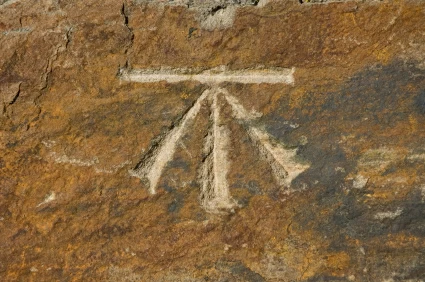 There is a lot of discussion and questioning of benchmarking. I recently found this article titled "Is benchmarking the real failing of global marketing procurement?" on Businessweek.com from Freedman International. Heavily drawing from the article in AdAge by Avi Dan it questioned the role of benchmarking.
I think there are quite a number of people who get benchmarking in marketing and advertising terribly wrong.
Benchmarking has its origins in surveying. The surveyor would make a reference mark on a building or structure, like the one above, and then measure all of the surrounding structures in relation to this mark.
It is the same with benchmarking marketing.
The purpose is not to reduce everything down to the benchmark, but to be able to measure and compare performance, cost, volume and complexity in relation to this reference point.
There is no single model, level, quantity or mix that suits all marketing situations. Therefore mindlessly applying benchmarks could be the great failure of global marketing procurement. But this does not mean that benchmarking is flawed, just the way it is applied.
When we benchmark the marketers agency arrangements we are not just benchmarking the cost but also the level of resources, the direct costs of those resource, the mix including seniority and roles, and the underlying cost of business in delivering those services and outcomes.
Recently, I had an agency typically questioning the validity of our benchmarks during a remuneration negotiation. So how do TrinityP3 develop the benchmarks we use?
Firstly we are provided with a huge and unique amount of data through the work we do with our clients. While we do not specifically use this data, it does add to our pool of knowledge about the current rates and fees within any particular market.
Secondly we obtain significant industry information through subscription to proprietary research, industry information sources, academic research and publicly available information.
Finally each of our industry consultants have more than ten years experience in their particular fields and bring to the process the knowledge on how best to apply these benchmarks to the situation.
Together, this provides us with a very substantial and unique base of benchmarking knowledge to assist our clients to make decisions on the rates they are paying. Not just simply adjust the fees mindlessly to the benchmark level.
After all, this would mean that everyone ends up the same and are we not trying to be outstanding in our marketing and advertising?
Want more articles like this? Subscribe to our newsletter: