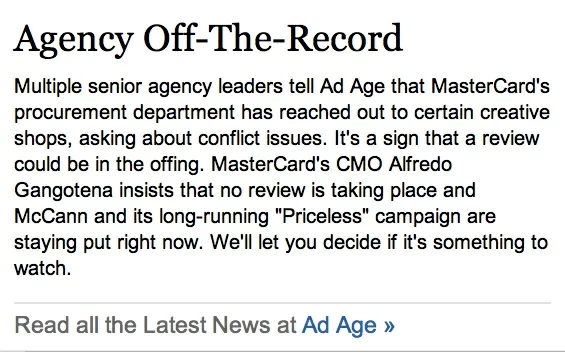 Apart for knowing the industry and having knowledge of the agencies and their capabilities, culture and conflicts, search consultants are able to act on an advertisers behalf without alerting the industry to a possible review.
Recently this story appeared in AdAge and was drawn to my attention by a business director here at TrinityP3. He was surprised by the fact that the company thought that they could make these approaches and that speculation would not arise?
We regularly have our clients ask us to provide a market search against their supplier selection brief. This is based on us being able to access databases including Adstrument, Adforum and our own TrinityP3 Global Agency Register.
Then we are able to contact the agencies confidentially and without revealing the client, get confirmation on the currency of the information we have. Because we are managing 50 or more of these searches a year it is almost impossible for the agencies to determine who the client is that we represent.
Just another reason to engage a search consultant like TrinityP3 when you are planning to undertake your next agency review.
Want more articles like this? Subscribe to our newsletter: